Get Premium Personalized Wraps and Graphics in Mandeville, LA to Transform Just About Anything
Welcome to Picture This Wraps and Graphics! This is the place where you get to picture a wrap for your car, boat, building, or literally anything and bring it to life. Regardless what kind of wrap or graphic you wish to bring to life, we are here to help.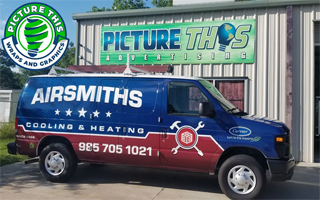 Picture This Wraps and Graphics is the leading provider of vehicle wraps and graphics in Mandeville, LA. We have been helping individuals and businesses take advantage of attention-grabbing wraps and graphics to boost the appearance of their cars, boats, and more and fuel their marketing growth for over 11 years.
For those who want to transform the look of their vehicle, we have a myriad of wrap designs and styles. We can also customize wraps to suit your specific needs. Our vehicle wraps and graphics are also perfect for businesses looking to leverage mobile advertising. Simply wrap your fleet of vehicles and reach your target audience everywhere your fleet goes.
As an experienced wraps and graphics provider in the area, we understand that choosing the right design for a wrap or graphic can be confusing. That's why we help our clients with questions and an art interview to better understand our client's wants and needs in order to create a design that matches their vision. We also help them with complete, hassle-free wrap installation. Our team of certified installers will install the wraps and graphics in a courteous, friendly, and professional manner anywhere in the U.S. to offer you peace of mind and perfection.
What We Offer
We specialize in these wraps and graphics in Mandeville, LA:
Vehicle wraps: Whether you want to personalize your car or need commercial vehicle wraps for your marketing purposes, we have everything you need.
Architectural wraps: We have a wide range of architectural wraps to transform your home or business.
Boat wraps: We offer boat decals, partial and full-coverage wraps to improve your boat's appearance and protect it from harmful elements.
Commercial wraps: We also offer commercial wraps for businesses looking to boost brand awareness and reach their target market effectively.
Got a project in Mandeville, LA? Schedule a call today, and let's discuss what we have for you.