Get Premium Personalized Wraps and Graphics in Mandeville, LA to Transform Just About Anything
Welcome to Picture This Wraps and Graphics! Let us help you wrap your car, boat, building — almost anything!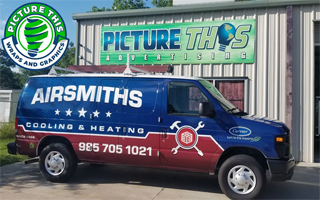 Picture This Wraps and Graphics is the leading provider of vehicle wraps and graphics in Mandeville, LA. We have been helping individuals and businesses take advantage of attention-grabbing wraps and graphics to boost the appearance of their cars, boats, and more and fuel their marketing growth for over 11 years.
For those who want to transform the look of their vehicle, we have a myriad of wrap designs and styles. We can also customize wraps to suit your specific needs. Our vehicle wraps and graphics are also perfect for businesses looking to leverage their current vehicles into mobile billboards. Simply wrap your fleet of vehicles and reach your target audience everywhere you service.

What We Offer
We specialize in a complete line of wraps and graphics in Mandeville, LA, including but not limited to:
Vehicle wraps: Whether you want to boost your marketing efforts or personalize your vehicle, our premium 3Mᵀᴹ vehicle wraps are all you need.
Architectural wraps: Our architectural wraps can turn any ordinary interior or exterior space into a jaw-dropper. Our wrap experts can personalize each wrap to perfectly suit your space.
Boat wraps: We have boat decals, partial and full-coverage wraps to take your boat's appearance to the next level while protecting it from harmful marine elements.
Commercial wraps: Our commercial wraps are excellent for businesses looking to expand their reach and boost brand awareness through mobile advertising. They can be installed on a fleet of any vehicle, from vans and trucks to trailers and more.
Got a project in Mandeville, LA? Schedule a call today, and let's discuss what we can do for you.