Get Premium Wraps and Graphics in Gulfport, MS at Affordable Prices
Welcome to Picture This Wraps and Graphics! We offer personalized wraps and graphics for just about anything — from cars and boats to buildings and much more. Regardless of what you visualize for your first or next wrap installation, we can help bring it to life.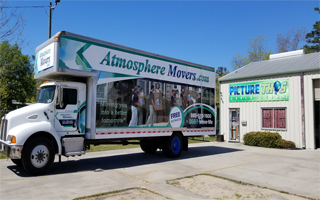 Picture This Wraps and Graphics is Gulfport's leading provider of vehicle wraps and graphics, serving the residents and businesses of the area for years. Take advantage of our eye-catching 3Mᵀᴹ wraps and graphics to enhance the appearance of your car, van, boat, house — just about anything. And if you are a business owner looking to boost brand awareness, our commercial wraps have you covered.
What We Offer
We specialize in a complete line of wraps and graphics in Gulfport, MS, including but not limited to:
Vehicle wraps: Whether you want to boost your marketing efforts or personalize your vehicle, our premium 3Mᵀᴹ vehicle wraps are all you need.
Architectural wraps: Our architectural wraps can turn any ordinary interior or exterior space into a jaw-dropper. Our wrap experts can personalize each wrap to perfectly suit your space.
Boat wraps: We have boat decals, partial and full-coverage wraps to take your boat's appearance to the next level while protecting it from harmful marine elements.
Commercial wraps: Our commercial wraps are excellent for businesses looking to expand their reach and boost brand awareness through mobile advertising. They can be installed on a fleet of any vehicle, from vans and trucks to trailers and more.
Why Choose Us
While we have endless wrap designs and styles to transform the look of your vehicle, boat, or space, we specialize in customizing wraps to suit your vision.
As an experienced wraps and graphics provider in Gulfport, MS, we help our clients choose the right wrap design to meet their needs. Our team of 3Mᵀᴹ certified wrap installers will get the job done in a courteous and professional manner anywhere in the U.S. And should you face any problem with our installation or need guidance on wrap maintenance, you can always contact our customer service.
Got a project in Gulfport? Schedule a call today and let us offer you the best wraps and graphics at affordable prices.