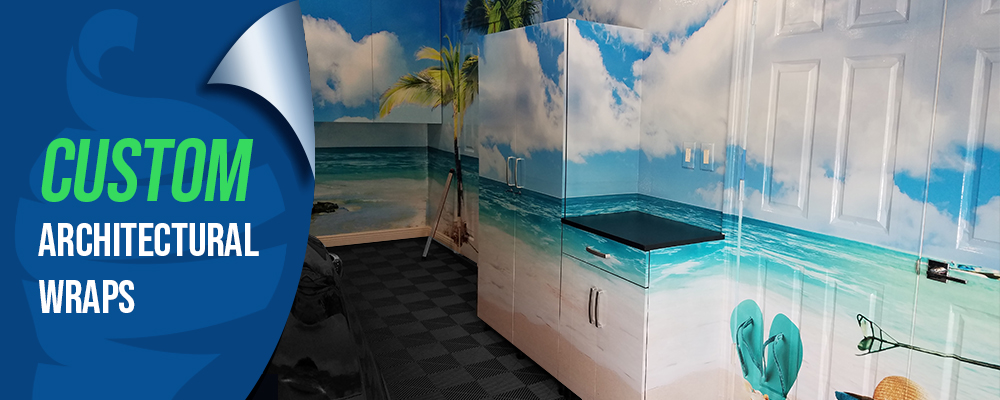 Architectural wraps help make the most of any given space such as windows, walls, ceilings, and even floors by adding a custom look and style. With an almost endless option of various wrap materials, we have the ability to transform virtually any type of environment into the texture, look, and overall feel that best suits your needs. Regardless of how small or large your idea is, team Picture This is here to help. These varieties of the environment changing types of vinyl include but certainly not limited to – woodgrains, brushed metals, gloss with glitter, leather, chrome, marble, or even animal skin. See below for more information on our more common materials and applications.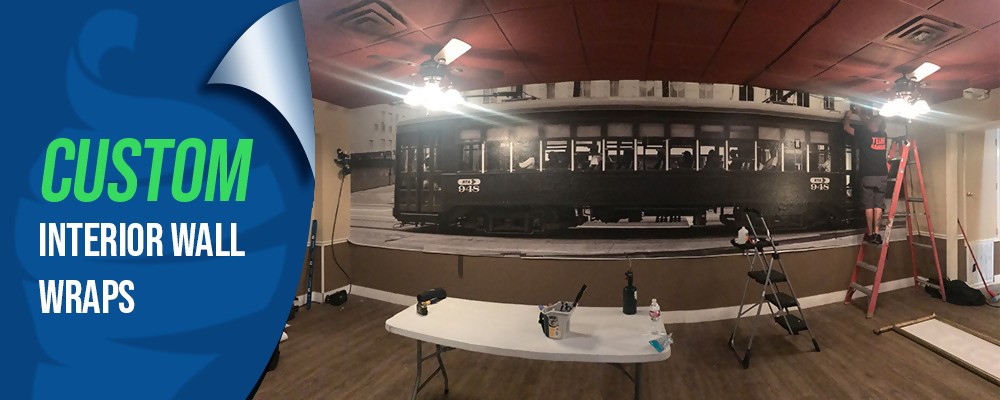 Interior Wall Wraps

Interior wall wraps can help you transform a simple room in your home to fit your personality or can be used to help inspire your employees and wow your clients. One of the best things about working with interior is that it is seldom exposed to the harsh outdoor elements and can be provided at a much lower cost with longer-lasting capabilities. They certainly help change a room's entire element!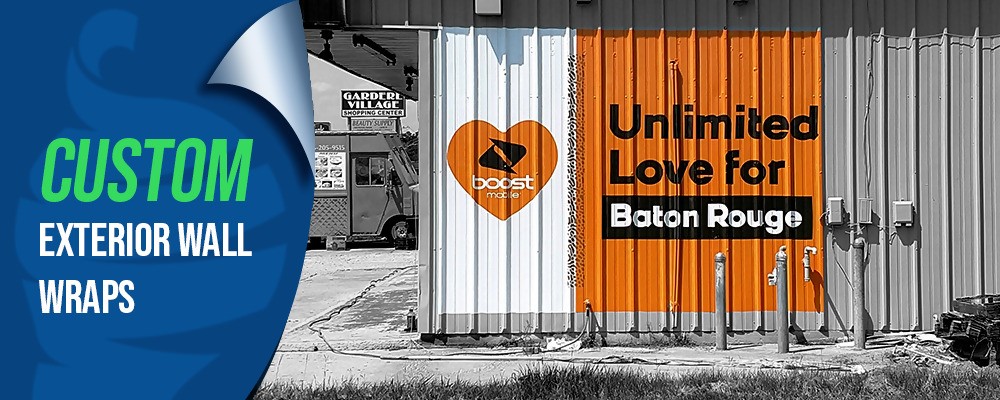 Exterior Wall Wraps

Want to really Jazz things up and attract attention to your business? Exterior wall wraps do just that and in a big way!
There are a variety of different exterior wall surfaces out there from corrugated metal to exposed old bricks and everything in between. The good news is, Picture This Wraps and Graphics has a wrap solution for each one of them.
While most rough exterior wall surfaces provide several challenges for vinyl graphics to adhere properly, when done properly the final look will knock your socks off. In our experience, the primary key is to take time to do each step properly and know the best materials, tools, and installation techniques for each unique situation.

Our team of certified installers have been properly trained to handle almost any surface area vinyl graphics can be applied to.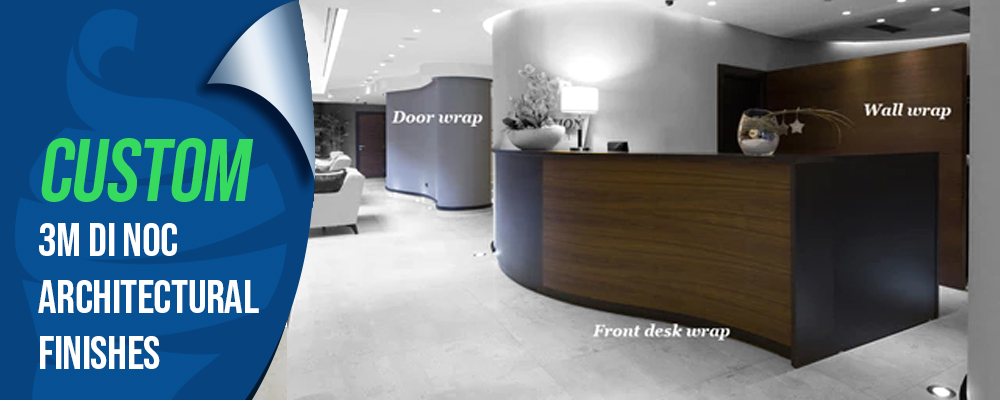 Di-Noc Architectural Finishes

Picture This Wraps and Graphics are proud to be one of the only 3M Di-Noc certified companies in Louisiana.
3M Di-Noc architectural films are a fairly new and versatile material that utilizes self-adhesive and laminated vinyl that provides a completely new look and feel to nearly any surface, flat or curved.
With 3M's ever-growing Di-Noc lineup now offering well over 1,000 patterns ranging from woods and metals to marble finishes and carbon to even leather.
It is no wonder that architectural films are the fastest-growing portions of the vinyl wrap industry. It allows our clients to refinish older architectural elements and extend their life inexpensively all while doing this work on-site and quickly so not to interfere with normal business operations.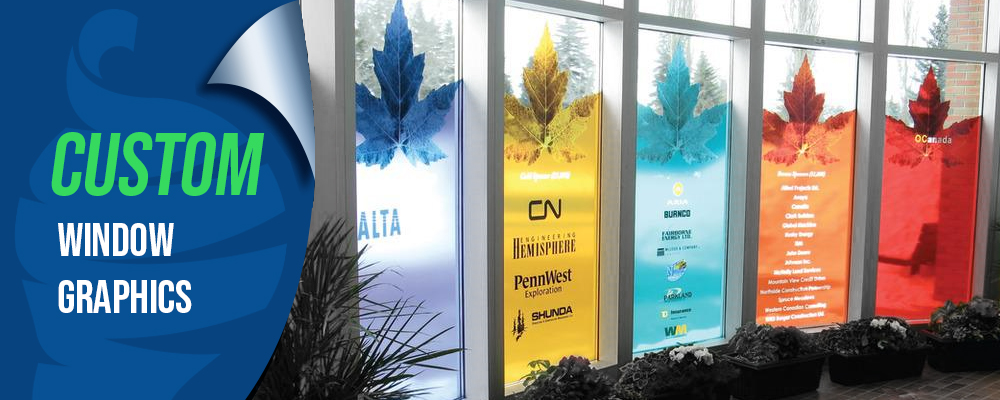 Window Graphics

WINDOW GRAPHICS
Transform your windows into stunning visuals that help convert onlookers into shoppers.
There is a large assortment of different graphic solutions for your windows and each offers a different benefit or look to help get your message out to the masses and fit your style and budget.
Perforated Window Graphics
The most commonly used graphics for windows is certainly the ever-impressive window perf. This material is produced so that approximately half of the material is punched out in a consistent pattern offering you the ability to see out through the graphics but not in. Graphics are printed on the front side while the backside has adhesive and a dark color effect that will allow the eye to see through it so the mind can put together the image it sees through the holes. Custom printed window perf is generally our go to for most window coverage options from vehicles to store fronts.
Die-Cut Decals
Custom cut out graphics to your unique shape using either solid color or digitally printed backside adhesive graphics are a great way to put your important information onto the windows and get your message out to the passersby. They are typically used on entrance doors to show the business identity along with address and hours of operation. They do not offer you transparency but cover little area and is one of the least expensive options for window coverage.
Clear Window Decals
This window coverage offers you the ability to print graphics onto near completely transparent film. The colors are high density printed onto a clear vinyl with clear backside permanent adhesive. Due to the transparent film the printed ink colors might appear as a lower opacity and a bit transparent vs high intense color pop like some other options. We do not print white, so any white areas in these graphics would actually be a clear transparent non-print area.
Window Clings
The easiest to put up and remove with reusable abilities are the window clings. These are most commonly seen in grocers and convenience stores for Point of Purchase displays. The material has a backside only static cling ability that holds the graphics in place without any use of adhesive.
Solid Vinyl
Solid vinyl graphics with backside adhesive provides the most brilliant graphic effects of the window graphics options. This vinyl is not transparent in anyway and helps block out the sun and keep your temperature cooler inside. These solid vinyl graphics are laminated in order to help provide a longer life and protect it against the elements outside. There are different material options depending upon the life of the graphics you may need and your budget but even the least costly calendared vinyl will provide an average of 3-4 years.
Window Etching
Window etching or commonly called frosted window graphics provides a professional and elegant look to any environment. This material can be custom cut to any shape, be blank or printed on, and offers an ideal solution when privacy is needed. There are different etching look types available ranging from a fine dusted look to more of a deep frosted look depending upon your needs. Please note some this material is not completely transparent and can sometimes be slightly visible when installed in certain elements.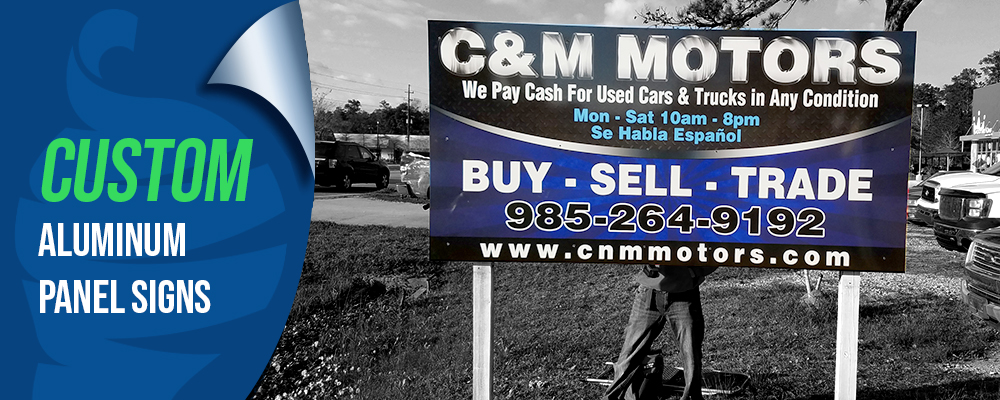 Aluminum Panels

Aluminum Panels are strong, lightweight and cost effective material available in full color graphics. Probably the most all around simple solution for almost any situation. Our aluminum signs are made of dual .008″ aluminum panels combined with a solid polyethylene core. They are long lasting durable solution to many businesses signage needs.
Our custom aluminum signs can range from the small or very large by combining several panels to work as one display. Full-sized panels are usually 8′ x 4′ and are available in custom-cut shapes for that extra pop to your display.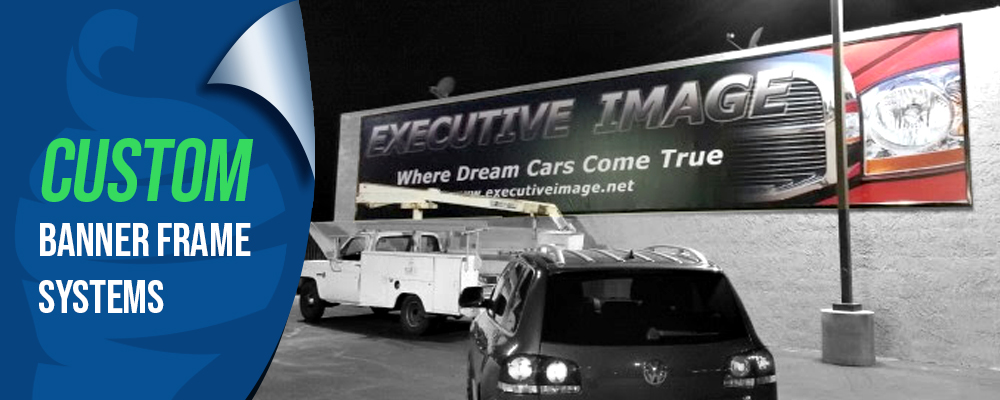 Banner Frames

Need to swap out your graphics on a regular basis? Regardless of your needs for a box truck or building, advertising banner frame systems are an amazing solution for your marketing needs. These replaceable vinyl banner systems allow you to change our vinyl banners in minutes and help keep your expenses down. Vinyl banners are one of the least expensive printed mediums that help keep your production costs down. With their easy to use aluminum snap-on systems, you can keep your labor costs down while offering new head-turning graphics.
Located At
925 Lafitte Street
suite F
Mandeville, Louisiana 70448.
504.684.1114
10551 Outdoor Way Bldg 2 Suite 1
Gulfport, Mississippi 39503
504.684.1114