Vehicle Wrap Facts and Why
VEHICLE WRAPS –
WRAPS the basics of what you should know.
You can think of vehicle wraps as a custom sticker applied over a surface like a new skin and transforms the look. It gives us the capability of transforming cars and boats coloring like like a new paint or turning something ordinary to something extraordinary.
There are many different types of vinyl out there that offer different capabilities and pricing points. With the current technology and vast amounts of vinyl materials it is almost limitless on what can be wrapped.
Most printed wraps are made to last for a five to seven-year life span and then allows for a fairly simple removal. Wraps do not harm the paint job and in fact they act as a thin protective layer against light bruising like grocery carts and such.
Here at Picture This Wraps and Graphics we love wraps!!! We better, considering it is what we do all day, everyday. Vinyl wraps are used everywhere now and have allowed us to be a part of some creative and crazy projects from wrapping Wolverine's motorcycle for the movie "Logan" to transforming a family's three car garage into their own personal beach.
We primarily focus on helping businesses stand out from the competition using a professional and memorable brand, usually by wrapping some asset they already own. Walls, Boats, Windows, Trailers, your coffin (yes people wrap coffins but not usually not for advertising of course).
The more creative and the unique the project the more you have our attention.
Check out our miscellaneous wraps page just to see some random things people have had wrapped. Not all are necessarily done by Team Picture This.
THE WRAP PROCESS


Our process starts with a survey to review all measurements and details of the vehicle. From there we will do what we call an "art interview" in order to learn more about your company, ask some key questions, and learn where you hope to utilize this wrap. This will allow us to collaborate with our design team and give you our best design mockup for your needs from the start. You will be invited to a custom project board where you and the designer should work together until given your final desired look.
Once you are pleased with your new wrap look, we will schedule your installation date, which is typically a week and a half out. This allows us to coordinate so we typically only need your vehicle for one, or maximum two days, depending on the complexity of the installation. We do ask our clients to hand wash their vehicles 24 hours prior to being wrapped so that the soap gases out properly and we do not have to fight with water dripping out of the vehicle's crevices while we apply vinyl. It is also important to be sure to remove any wax from the vehicle and not use Armour All on the tires as the overspray always falls on the vehicle wheel wells. Darn you Armor All!!!
After your wrap is complete we will provide you with general tips on how to care for your wraps and our team will always be here to help if any issues should arise. There is no need to worry knowing you also have a Picture This Warranty.
Now it's time to get your marketing into high gear and on the road so your wrap can help you grow your business.
We recommend to always have it out as close to the street as possible when parking and try to take in consideration of how many viewers you could be marketing to every time you park your car. It is also best to ask your clients how they heard of you so you can custom measure to see for yourself how well they pay for themselves so quickly.
While they do offer special wrap washes and waxes we have always just used a basic Dawn Dishsoap as car wash and a non-abrasive washing element. They have always worked well for us. Yes, you can pressure wash these wraps but we do not recommend doing that regularly. Nor do we recommend too many trips through the automatic car wash. Those brushes can damage your finish over time. Do keep it clean though, not only does it prolong the vinyl life but a clean wrap displays your look so much better than a dirty grungy one.
Once you are out on the streets in your new wrap showing everybody how you are a business guru, you are sure to be questioned on your new wrap. So we want you as a fan of Team Picture This, to tell them all about how calling us was one of the best business decisions you've ever made. This is how we help you grow your business and ours.
Commercial Wraps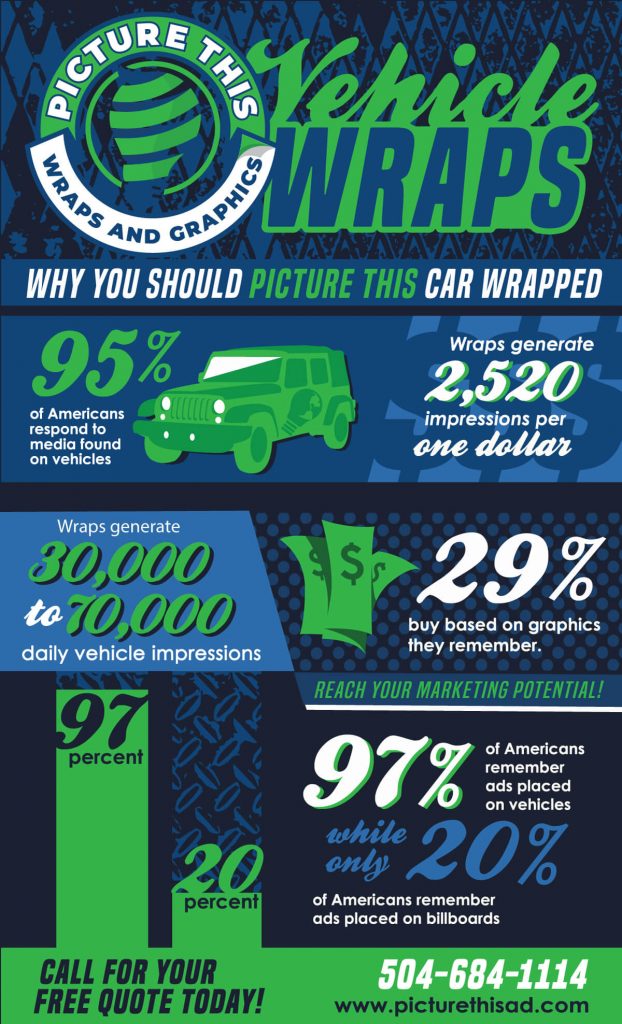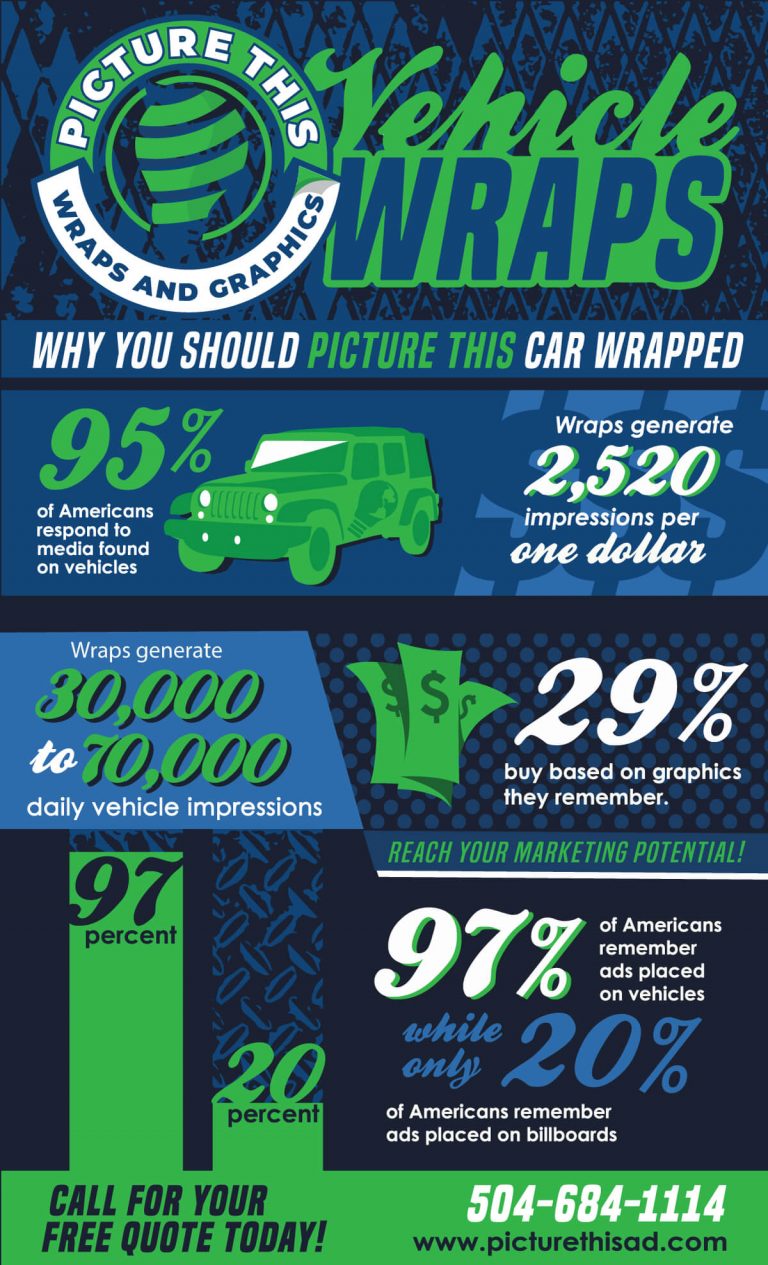 What you want to know about commercial vehicle wraps.
Simply put – you can't beat what it gives you for the dollar. The average wrap life is 5-7 years before it starts to lose its quality. We recommend having it removed in this time frame anyway in order to also allow for an easier removal that comes off in the size of pillows not pills once it's aged.
The most impressive are always the full coverage wraps while many times the best buy for the dollar, especially for larger fleets would be the partial wraps. As I'm sure you would already imagine, the more coverage and impact you wish to have, the more investment would be required when it comes to wraps.
Good design is Key! We are big believers in less is more! It's difficult to absorb a ton of information in a short time so what we do is try to enlarge the most important elements allowing them to cut through the clutter.
There are generally two different categories vehicle wraps fall under. Commercial and personal. Personal wraps are at most times a color change wrap which is a solid colored vinyl applied to a car in order to change its appearance much like a regular paint job.
We also do many personal wraps that involve designed and printed graphics that often times helps display the customer's personality or style on fun surfaces such as boats or home walls.
Commercial wraps are typically custom designed, and digitally printed white vinyl that have added protective over coat lamination to help protect it from the elements and give a longer brighter look. The commercial wraps are proven to be one of the best forms of advertisement for the overall dollar year after year.
Most of our commercial wrap clients are looking to us to solve their challenge of how to stand out from the competition and get their message in front of their target market with a professional brand/look. We urge our clients and help them to keep this as a consistent look on everything with their name on it from that point on.
Our job is to listen to your needs, let you know the options we can offer while answering any questions you may have. From there it's what you feel is the best investment for your business. Our team believes in not being a " Yes Man". We will speak up when the elements that are introduced are not in your best interest and will not provide the best return for your investment. At the end of the day, of course, it is YOUR wrap and we will give you whatever you wish, but we pride ourselves on educating our clients as we move forward. I wouldn't tell any of our HVAC clients which coil to use on my AC repair.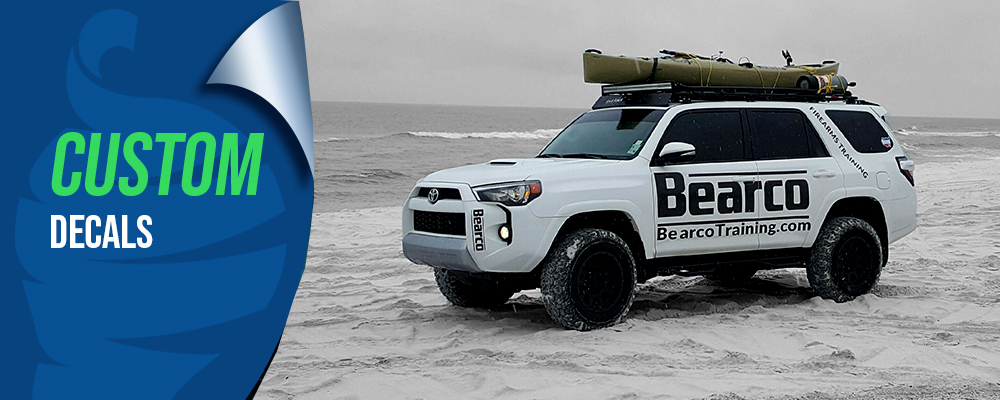 DECALS
The least expensive option, usually with the least amount of coverage and impact, are the cut decals, AKA Spot Graphics. Decals are available in solid colors or full color digitally printed. Decals are certainly more effective than no vehicle branding. I still grit my teeth when I see a blank white van that's obviously doing some sort of business they just don't want anyone to know what kind I guess…Ugg I digress. Decals can be effective especially with a good clean design, but they do come with other challenges of their own such as edges curling and collecting dirt around them and can show obvious sun wear on your paint over time.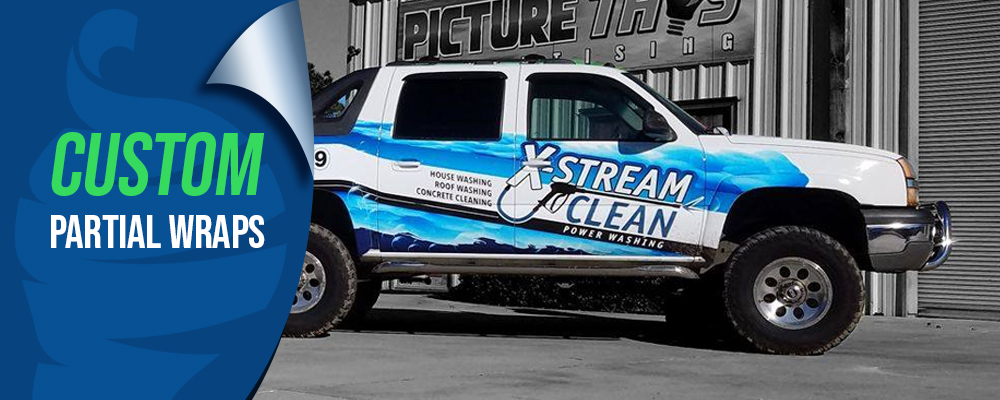 PARTIAL WRAPS
Now, onto what I believe to be the most bang for your buck, especially when we are working with neutral colors like white, silver, or black vehicles. A partial wrap is when we focus on the meat and potatoes of your vehicles useful surface area. We generally will start around the front tires and go to the rear while keeping all the graphics below the window line. Preferably we will do a full coverage of the back area though because that is where you have more of a captured audience that has a bit more time to read your message and take it in. We help cut costs by not wrapping areas that don't display to the masses as much. These areas are rooftops, hoods, (the horizontal areas are the first areas to fade anyway) bumpers, and around the windows which requires an extra cost because we throw that vinyl away and replace it with another piece of window perf so that you can see out. Partial wraps are where we normally advise our clients with larger fleets to invest their advertising dollars.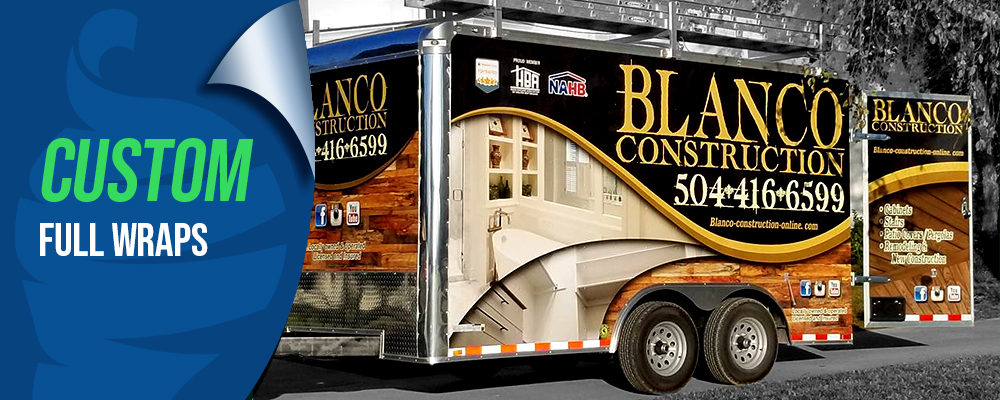 FULL WRAPS
Now we get to the big boys on the block. Full wraps not only help you stand out, they display a more impactful and professional impression that demands more attention. They help show your investment into your company. Full wraps are basically just as it sounds, it fully covers your vehicle including hood, windows, and a strip along the rooftop covering the areas you see from a standing view point. This larger space provides the designer more room to work with and provide the best platform for the design to now get your message out there.
BOAT WRAPS
Boat wraps are our specialty here at Picture This Wraps. Whether you are looking for a personal look or to advertise your business, few things make as dynamic of an impact as a boat wrap. They offer a sleek platform to showcase wrap graphics that helps make it pop and can be used parked on land or water. They always demand attention.
Many clients are taking advantage of the combination of amazing company branding and the business write-offs it can offer that it's no wonder we do almost as many commercial boat wraps as we do personal boat graphics. Take a look through some of our past marine graphics and custom color change boat wraps to see how our team can show your unique style.
We are proud to offer color change boat wraps as well as custom designed and printed marine graphics that can cover the outside and inside of nearly any boat.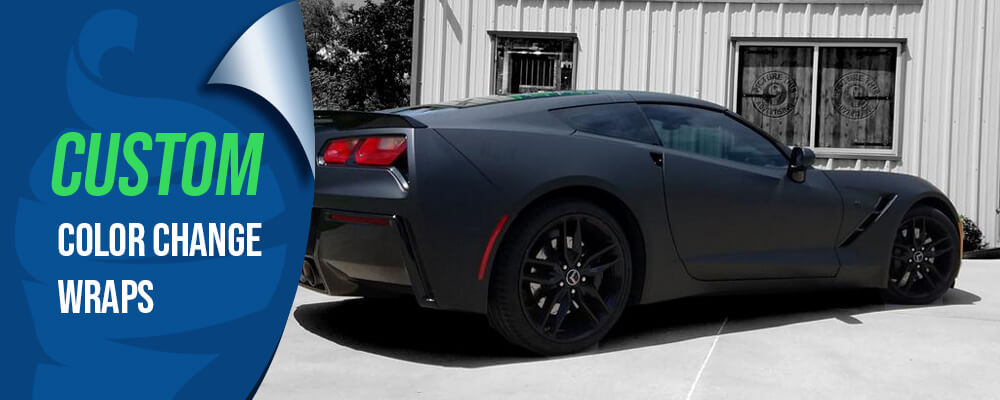 COLOR CHANGE WRAPS
While we offer a huge assortment of custom wraps, few beat the WOW factor that our specialty wraps offer. No matter what else you do to customize your car, these specialty films will always be the transformation that sets yours apart from all the others. Our loved black matte wraps have been around for a long time, but the demand is greater for more custom matte colors and other various vinyl films like the pearl carbon fiber or black mamba alligator skin vinyl.

Color change vinyl wraps can be done in nearly any color imaginable and in a variety of finishes. They include but are certainly not limited to Matte Colors, Color Shifting, Chrome Wraps, Camouflage Wraps, Even Textured Wraps such as Brushed Metal, Leather, Alligator, and Carbon Fiber.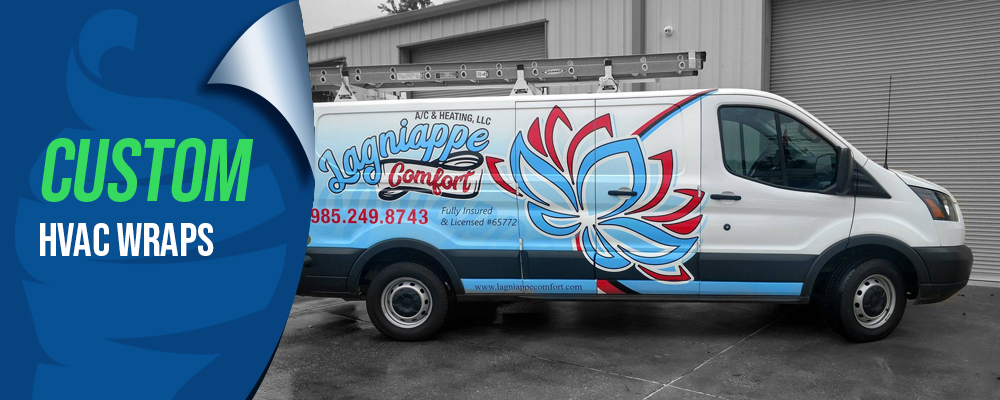 HVAC VEHICLE WRAPS –
The Air Conditioning and Heating service industry is an excellent example of how a properly executed vehicle wrap makes the difference of helping you grow a professional business with an established brand or watching the competition do so.
Here at Picture This Wraps and Graphics we have a particular focus on HVAC vehicle wraps. With a home base located in southern Louisiana, there is no shortage of AC Units running and that requires many service technicians. These businesses share the same challenges most businesses have…how to stand out from the competition, display their professionalism, and come to mind when a client is in need of their services.
We help our customers accomplish all of the above.

Regardless if you are a one man operation or have a fleet of 100, these vehicles are constantly on the road and should display your look to all that see it during your commute or while sitting in a clients driveway. It all starts with proper design.
LESS IS MORE! We say it everyday here to new clients and then continue to repeat it again with repeat clients. We help establish a proper brand to represent your business and then help them keep that same look consistent across all platforms that have their name on it. We educate our clients on the reasoning behind a simple clean wrap look and why it is more effective. We wish to have the logo large and easy to read as possible. If we can increase the logo to be viewed from 50 feet away to 100 feet away, you are going to help double the number of viewers that see your message on a daily basis. Generally, the second largest element is the phone number. IF the client wants to add any other pieces of information, it is usually a good tag line. We don't believe URLs listed on a wrap are a good use of space because almost everyone will always simply Google the name of the company. When they do, we want the website look to resemble the wrap so that they are ensured they are going to that company with the professional wrap they saw earlier.
We want to have your phone ringing more so that you can sell more. That is NOT going to happen if your average of 30,000 – 70,000 daily wrap viewers can't determine who you are and what you do.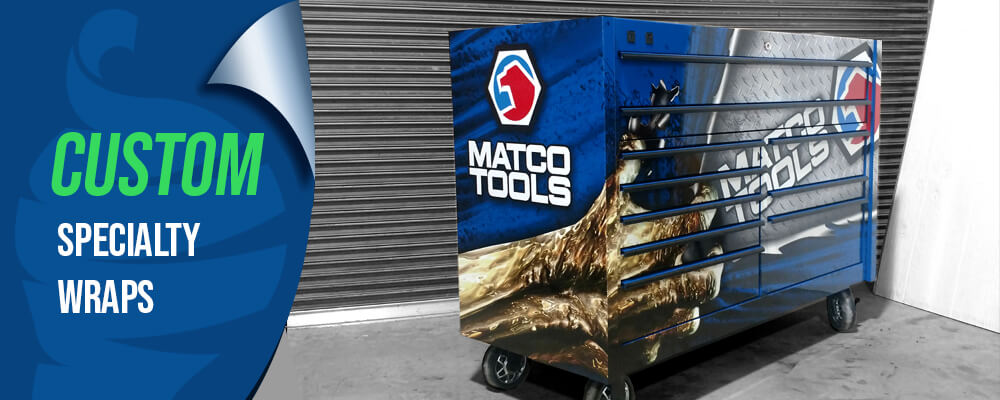 SPECIALTY WRAPS –
In need of something unique to be wrapped – something creative even? Sounds like you are our kind of person. Our wraps can go wall-to-wall, floor to ceiling, inside or outside, and can even be applied to tables, counters, or anything else you can imagine! If you're going somewhere that no one has gone before, we'd love to trail blaze with you, so just give us a call!
If you're ready for your physical assets to start putting money back into your pocket, contact Picture This Wraps and Graphics and let us picture something for you today!
Below are some more examples
WE CAN WRAP
*Ice Chests
*RVs
*Escalators
*Elevators
*Boats
*Jetskis
*Toolboxes
*Doors
*Tables
*Floors
*Port-a-Potties
*Counters
*Anything!!!
We are proud to provide our services nationwide, we are even more proud to be from New Orleans LA, and consider it an honor to provide the entire Gulf Coast Region with our wrap services. With special emphasis in Covington, Hammond, Mandeville, Slidell, New Orleans , Baton Rouge , and Venice, to Gulf Coast Al and Pensacola FL