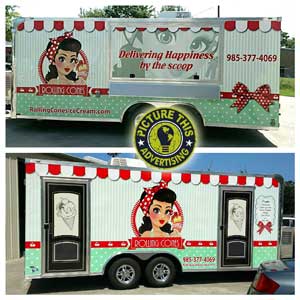 Rolling Cones – Misty Rowland VanHoose
— July 16, 2017 – 5 stars
This was my first time having any thing wrapped and I was very pleased with Picture This Advertising. In the beginning, it took us a few meetings and emails to understand each other but soon we were on the same page. Trey made sure to give me the exact design I wanted. Once the wrap was complete we had a problem with a screw causing a rip and he made sure to fix that right away. I would highly recommend him.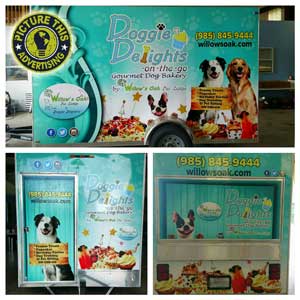 Doggie Delights – Tiffany Malone Beasley
-– July 14, 2017 – 5 stars
We couldn't be happier with our business trailer wrap! From customer service to design, the entire process was a great experience! Trey and his team did an awesome job and I would definitely recommend Picture This Advertising to anyone looking for a wrap. Wonderful experience from start to finish and we are thrilled with the result!!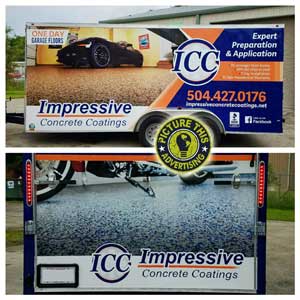 Impressive Concrete Coatings – Leah Broussard
–– August 17, 2017 – 5 stars
It was a pleasure working with Trey on the trailer wrap for Impressive Concrete Coatings. The wrap came out fantastic! We would definitely recommend him to anyone needing this type of service. Trey was genuinely happy to have our business and it was very easy to work with him and his staff. Great job Trey!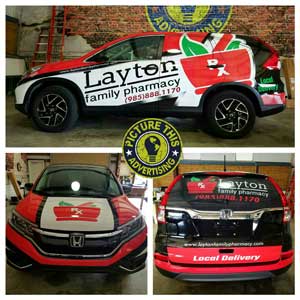 Layton Family Pharmacy – Pamela Layton
-– Layton Family Pharmacy – February 13, 2017 – 5 stars
Great work! Highly recommended. This place did an excellent job on our pharmacy delivery car! Thank you [Picture This Advertising] for the great job on the car. We get a lot of compliments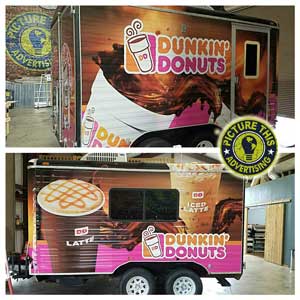 Dunkin Donuts – Bhavin Chauhan – November 2017 – 5 stars
Great service and finished product. We had some issues initially but Trey got it fixed an we were able to showcase our product in time for one of our biggest events.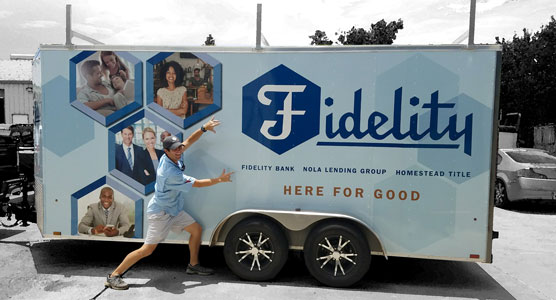 Fidelity Bank – Madison Burris
-– July 2017 – 5 stars
I have done several jobs with Picture This as well as gotten his opinion on several others. It was his honesty and recommendation that resulted in us not doing moving forward on everything we have wanted to do. All of my transactions have been professional and exceeded my expectations. I have consulted with him on two wrapping jobs, as well as used him for banners, printed signs, promotional materials, and out of the box advertising. Would highly recommend and definitely use again.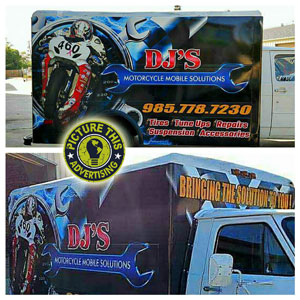 DJ's Mobile Bike Service – DJ Ricks
-– April 2017 – 5 stars
I recently had my box truck wrapped for my business and I could not be happier! "Picture This" designed the wrap perfectly. The communication was clear and prompt. They are very professional and pay close attention to detail. I would highly recommend anyone looking to get a wrap NOT to do so without contacting "Picture This Advertisement" first!! Thank you (Trey and company) for a great job and getting my business the attention I expected.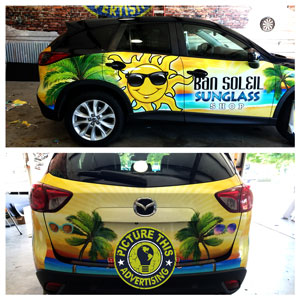 Ban Soleil – John Gagliano
-– May 2017 – 5 stars
I was talking to a customer of mine about advertising and without a blink of an eye he told me to call Trey at Picture This. It was very good advise. From the beginning Trey took the time to understand me and my business. That helped him almost nail the design from the start. In the design he was able to capture the feel of the business and translate that message to the public. Thanks Trey!! Looking forward to the next wrap…you know the Jeep is going to be bad to the bone!!
Escapeology– Steven Palmisano
-– April 2017 – 5 stars
Wow, wow, wow! Never in my wildest dreams did I expect the truck to look this good. Trey and his team created a work of art, that turns heads every time we drive our truck. Thank you guys for a wonderful job. A great investment and a great return.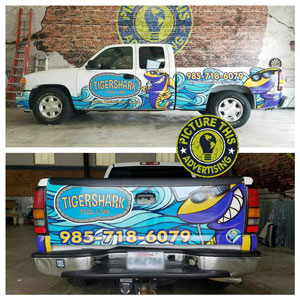 Tiger Shark Pool Service – Darrell Rollo
-– April 2017 – 5 stars
Picture This Advertising did an amazing wrap for my business and we steadily get calls from their beautiful work. Best R.O.I. for your advertising buck. You cant beat it!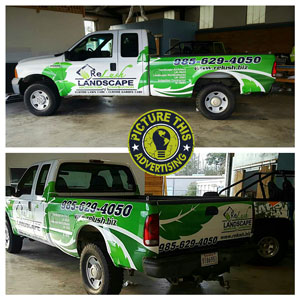 ReLush Landscape – Eric McQuiston
-– March 2017 – 5 stars
Picture This did an excellent job wrapping our truck. The graphics were top notch and the customer service was second to none! I highly recommend Trey and his team!
Atmosphere Movers
-– December 2016 – 5 stars
Atmosphere Movers has used Picture This Advertising several times and on each occasion their product, customer service, and attention to detail has been impeccable. Not only do they deliver what they promise, they work with our timeframes and around our schedule. We couldn't be more pleased and would highly recommend them for your advertising needs.
ION Water – Paul Purchase Agent
-– November 2016 – 5 stars
Trey wrapped my 1950 Ford truck for advertising he laid out a great design and was beyond over the top professional and did a great job considering there are no templates for our truck. We do a lot of business with him from stickers to signs. Every time he has been great and I refer people to him all the time. If you are around Mandeville just ask people if they have seen my Ion Alkaline Water truck and many people will say yes! It is because of his design that we turn heads everyday. THANKS TREY
First Castle Credit Union
— Dawn Rivera – 2015 – 5 stars
Best wrap game in town! It doesn't stop there- competitive on pricing for all kinds of print and promotional items! Can't get a printer to email or call you back? Not Trey! Great guy with amazing response time, creative solutions and awesome customer service!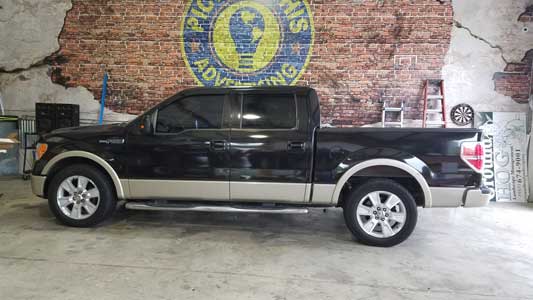 Stevin Lacoste
-– August 26, 2017 – 5 stars
Trey and his team were a pleasure to work with and very accommodating throughout the whole process. I'm very happy with my color change vehicle wrap and will definitely recommend Picture This Advertising to anyone looking for vinyl wrap work!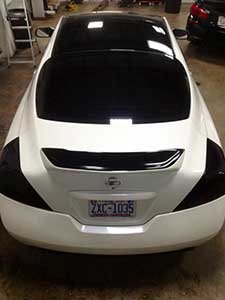 Mike Labat
-– Apirl 6, 2017 – 5 stars
Picture This did a great job on my Nissan Rogue. I would strongly recommend them to anyone. Very friendly and professional. Missy Roach Fox – November 14, 2016 – 5 stars Trey Matula and his group are the best! They produce high quality work, awesome turnaround, and the best prices in Louisiana! I definitely recommend Picture This Advertising.
Southern Hospitality – Rob Verdi
-– 2015 – 5 stars
Picture This Advertising has done such phenomenal work on vehicle wraps for both of my companies! Their design team blew me away and really helped bring my vision to life. The added value of the personal care and great communication at all times made them so easy to work with. I highly recommend utilizing Picture This Advertising!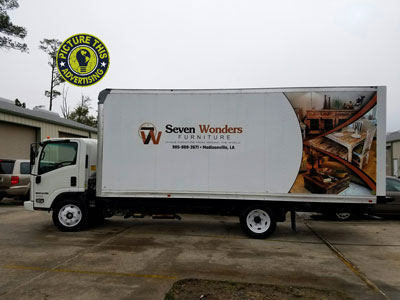 Seven Wonders Furniture – Kevin Lazaroe
-– 2015 – 5 stars
Highly recommend. Very professional and prompt and amazing work. I will definitely be using you guys in the future- amazing!
Michelle Arseneaux
-– 2015 – 5 stars
My first experience getting a custom wrap. Trey Matula was the ultimate professional in the service he provided from start to finish. If I didn't have the ice chest wrapped "specifically" for a friend, I would have kept it myself. I would highly recommend Picture This Advertising to anyone for business and/or entertainment. A job definitely well done!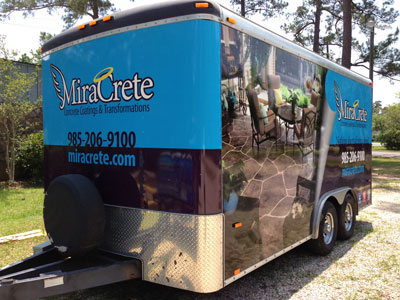 MiraCrete Concrete Coating
— Alan Chandler – 2015 – 5 stars
After negative experiences with two other companies in the area, Trey Matula far exceeded my expectations of production time, quality of work, and budget. Only hours after my initial phone call to Picture this Advertising, I had already met with Trey, and had a written scope of work in hand, along with digital specs for my Enclosed trailer! Now two years later my Vinyl Wrap from Picture This, remains beautiful and my investment continues to perform. I doubt my business would be where it is today, without Trey's expertise in Advertising, and attention to detail…….Thanks Trey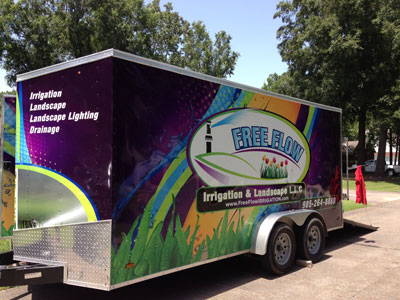 Free Flow Irrigations – Sandra Tillman
-– 2015 – 5 stars
Picture This did a trailer wrap, logo and shirts for my business. I can not tell you how pleased I am. Truly customer focused and great at what they do. Recommend to everyone!!!!
Jacob T. – Slidell, LA
-– April 25, 2016 – 5 stars
Trey & his team wrapped my vehicle and I can't be more please. Great customer service with high quality work!
Omega Concierge – Ben Z. – Covington, LA
-– December 23, 2015 – 5 stars
Our company has used Picture This Advertising several times and will continue to use them. They do all of our design work for signs, wraps and promotional brochures. We have had great results and good communication with them for more than 4 years. I highly recommend this company!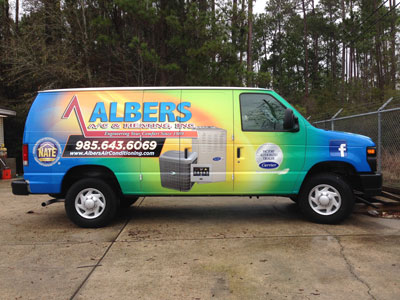 Albers AC – Spencer Alberts
his was by far the best experience our company has had with a graphics company. Trey and his crew designed us a fantastic new wrap design for our service vans. They took the time to present us with several different options and we were able to tweak the design perfectly to our liking. Five star operation without a doubt! Highly recommended!!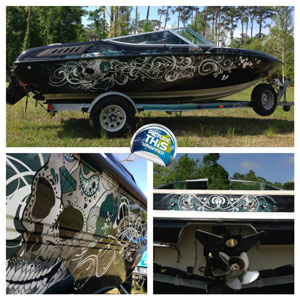 Derick Drennan – Trey was very professional, prompt, and attentive. I thoroughly
enjoyed assisting in the design process. The wrap looks awesome! Much better on the boat than I ever imagined! Trey and the artistic design staff care about getting it right. Their suggestions were always in line with my overall project idea. They go above and beyond what I expected in service and support. I highly recommend Picture This to everyone.
Forest Air – Tamela Forest
-– Oct. 6, 2014
Working with Picture This Advertising was a joy. They were very professional and easy to work with. They really bring your vision to life. I will definitely recommend them to others.
Northshore Millworks – Julie Philippus
— Nov, 21, 2014
did a fabulous job! Thank you for hitting our deadline and for your amazing patience. We are thrilled with the result! One Rug Two Rug – Louis Martin Aug 7, 2014 Trey Matula was very forthright and good to work with. Our van looks great and attracts attention
Pabst AC – Elroy Pabst
— Oct. 3, 2014
Just Awesome!!! I would certainly continue to work with Picture This Advertising. how to make a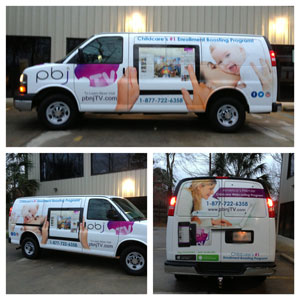 PB&J TV – Bobby Franzo
— March, 10, 2014
Working with Picture This Advertising has been great! From initial design concept and brand implementation to overall project execution, the experience with Picture This Advertising was fantastic! Thank you PTA!!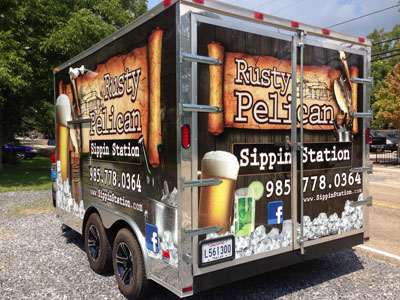 Rusty Pelican – Daniel Hamauei
— Sep. 9, 2014
Great!! They were very quick with the original design and were very open to my changes and made them happen quickly!! When you see the images of the wrap then see the real thing you can not believe how great it looks!! First class operation!!
Coastwide Electric – Terry Stone
— June 9, 2014
Very pleasant, informative and professional. Could not believe the difference in appearance the wrap made . . .3 weeks later. . .still amazed. Getting a lot of second looks and compliments on my boat, whenever and wherever I go.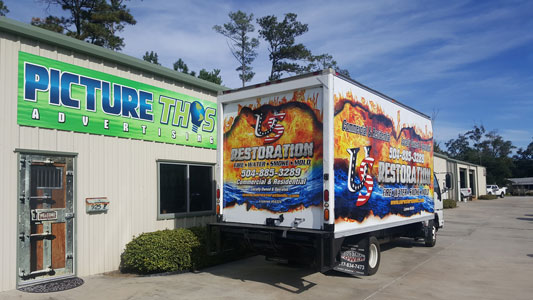 US Restoration – Wayne Catalano
— Feb. 10, 2016
More Than expected. 100% Satisfied. From the start in design of graphics to final application of wrap to vehicle, Fantastic. Pleasure doing business with this Company.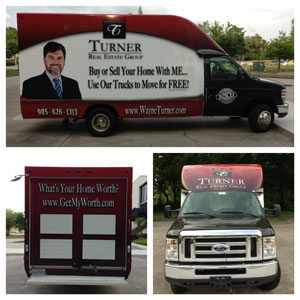 Turner Real Estate Group – Wayne Turner
— May 12, 2014
Exceptional…These guys are good. They did exactly what they promised and delivered on time.
Wicked Fishing Charters – Andy Jones
— Feb. 5, 2014
Perfect, timely, high quality. Great experience, Trey was very helpful and made fantastic adjustment to my ideas and the result was fantastic. Very quick no hassle great service. I would and will use again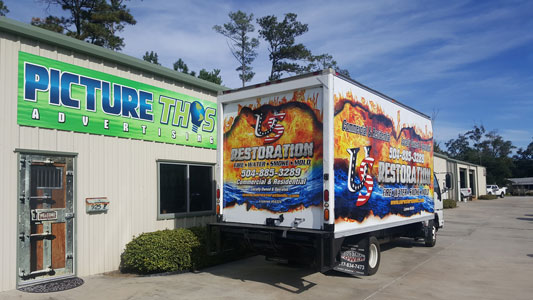 US Restoration – Wayne Catalano
Can't say one thing negative. 100% – 1st class operation. Before you make a decision on a Vehicle wrap, you should consider Picture This