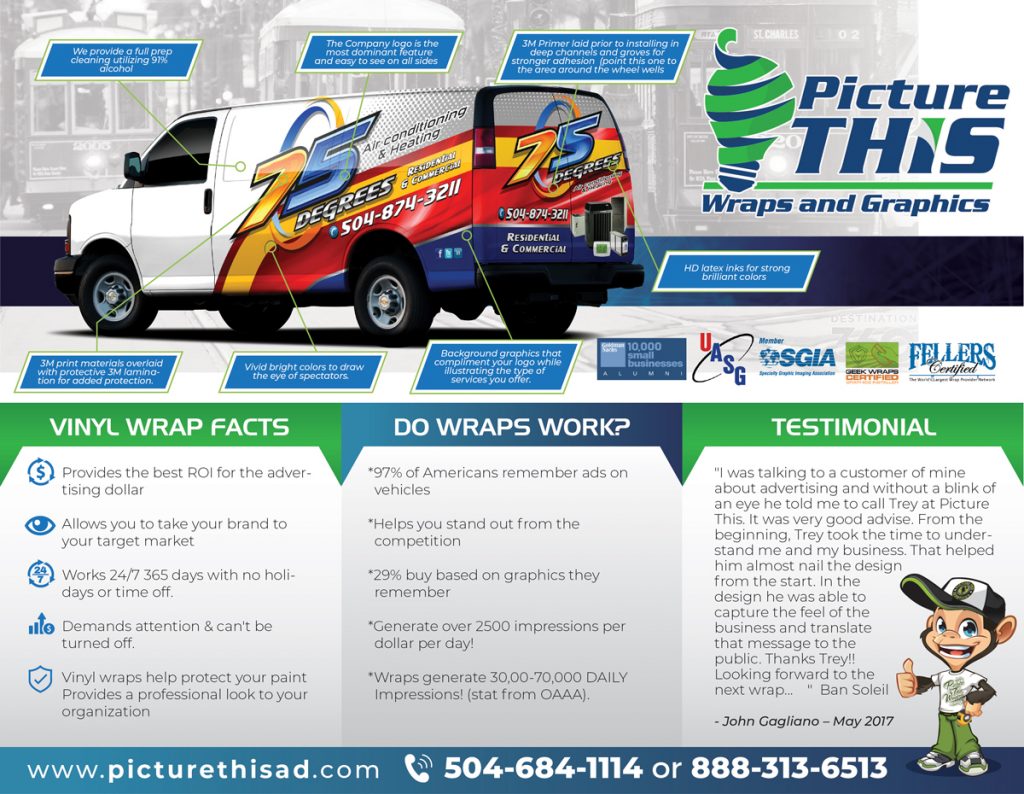 VEHICLE WRAPS –
WRAPS the basics of what you should know.
You can think of vehicle wraps as a custom sticker applied over a surface like a new skin and transforms the look. It gives us the capability of transforming cars and boats coloring like like a new paint or turning something ordinary to something extraordinary.
There are many different types of vinyl out there that offer different capabilities and pricing points. With the current technology and vast amounts of vinyl materials it is almost limitless on what can be wrapped.
Most printed wraps are made to last for a five to seven-year life span and then allows for a fairly simple removal. Wraps do not harm the paint job and in fact they act as a thin protective layer against light bruising like grocery carts and such.
Here at Picture This Wraps and Graphics we love wraps!!! We better, considering it is what we do all day, everyday. Vinyl wraps are used everywhere now and have allowed us to be a part of some creative and crazy projects from wrapping Wolverine's motorcycle for the movie "Logan" to transforming a family's three car garage into their own personal beach.
We primarily focus on helping businesses stand out from the competition using a professional and memorable brand, usually by wrapping some asset they already own. Walls, Boats, Windows, Trailers, your coffin (yes people wrap coffins but not usually not for advertising of course).
The more creative and the unique the project the more you have our attention.
Check out our miscellaneous wraps page just to see some random things people have had wrapped. Not all are necessarily done by Team Picture This.
THE WRAP PROCESS


Our process starts with a survey to review all measurements and details of the vehicle. From there we will do what we call an "art interview" in order to learn more about your company, ask some key questions, and learn where you hope to utilize this wrap. This will allow us to collaborate with our design team and give you our best design mockup for your needs from the start. You will be invited to a custom project board where you and the designer should work together until given your final desired look.
Once you are pleased with your new wrap look, we will schedule your installation date, which is typically a week and a half out. This allows us to coordinate so we typically only need your vehicle for one, or maximum two days, depending on the complexity of the installation. We do ask our clients to hand wash their vehicles 24 hours prior to being wrapped so that the soap gases out properly and we do not have to fight with water dripping out of the vehicle's crevices while we apply vinyl. It is also important to be sure to remove any wax from the vehicle and not use Armour All on the tires as the overspray always falls on the vehicle wheel wells. Darn you Armor All!!!
After your wrap is complete we will provide you with general tips on how to care for your wraps and our team will always be here to help if any issues should arise. There is no need to worry knowing you also have a Picture This Warranty.
Now it's time to get your marketing into high gear and on the road so your wrap can help you grow your business.
We recommend to always have it out as close to the street as possible when parking and try to take in consideration of how many viewers you could be marketing to every time you park your car. It is also best to ask your clients how they heard of you so you can custom measure to see for yourself how well they pay for themselves so quickly.
While they do offer special wrap washes and waxes we have always just used a basic Dawn Dishsoap as car wash and a non-abrasive washing element. They have always worked well for us. Yes, you can pressure wash these wraps but we do not recommend doing that regularly. Nor do we recommend too many trips through the automatic car wash. Those brushes can damage your finish over time. Do keep it clean though, not only does it prolong the vinyl life but a clean wrap displays your look so much better than a dirty grungy one.
Once you are out on the streets in your new wrap showing everybody how you are a business guru, you are sure to be questioned on your new wrap. So we want you as a fan of Team Picture This, to tell them all about how calling us was one of the best business decisions you've ever made. This is how we help you grow your business and ours.