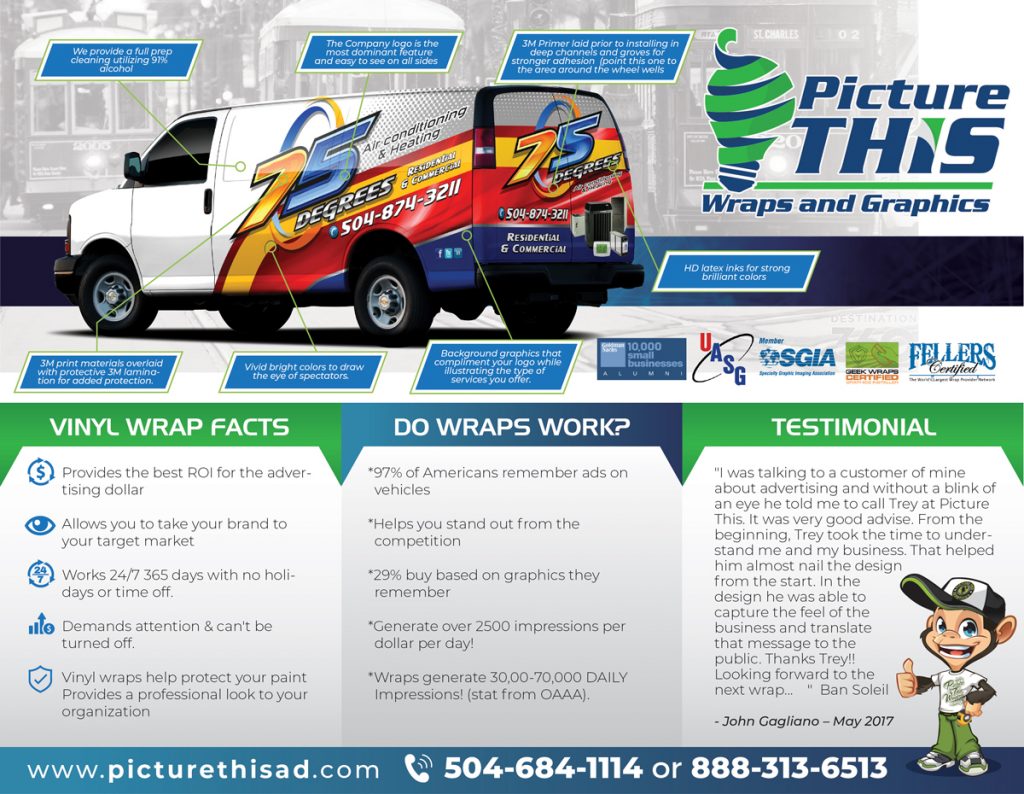 Vehicle Wraps: The Basics
Think of a vehicle wrap as a custom sticker applied to a surface like a new skin that can totally transform the look of the vehicle. Wraps allow us to transform cars and boats much like a new paint job would, turning something ordinary into something extraordinary. Our team has access to so many different types of vinyl and printing techniques, we are sure to find something that fits your style, needs, and budget. With today's technology, what we are able to wrap is almost limitless.
Most printed wraps are made to last for a life span of 5-7 years, allowing for a fairly simple removal. Not only do wraps do not harm the paint underneath, but they also act as a thin protective layer against everyday light bruising like bumps from grocery carts.
Here at Picture This Wraps and Graphics we LOVE wraps! Vinyl wraps are used almost everywhere now, so we've been lucky enough to have been a part of some creative and crazy projects. From wrapping Wolverine's motorcycle for the movie "Logan" to transforming one family's three car garage into their own personal beach, the sky's the limit on what we can wrap!
We primarily focus on commercial vehicle wraps that help businesses stand out from their competition with a professional and memorable brand, but we can wrap walls, boats, storefront windows, trailers, even coffins (yes, some people do wrap coffins). We love a creative and unique project!
Check out our miscellaneous wraps gallery to see some interesting things people have had wrapped. Please note that not all projects were done by Team Picture This.


The Wrap Process
Once you decide you'd like to have a wrap done, we will start with a survey to review all measurements and details of the vehicle. From there, we will do what we call an "art interview" where we'll ask some key questions to learn more about your company and your goals for the wrap. This step is crucial for our design team to be able to give you our best design mockup for your needs from the start. You will be invited to a custom project board where you and the designer will work together to find your desired look.
Once you are pleased with your new wrap's design mockup, you will sign off on it and schedule your installation date, which is typically a week and a half to two weeks out (although some times are busier than others). Typically, we only need your vehicle for one day, but a maximum of two days may be needed for a more complex installation. We do ask our clients to hand wash their vehicles as well as remove any wax 24 hours prior to being wrapped so that the soap gases out properly and so water isn't dripping out of the vehicle's crevices while we are applying your vinyl. Please do not use Armor All on the tires as the overspray falls on the vehicle wheel wells and is very hard to remove to apply your wrap.
After your wrap is installed, we will provide you with information on how to care for it. Keeping your vehicle clean according to our guidelines not only prolongs the life of the vinyl but also ensures your graphics stay vibrant and attention-grabbing. While there are special wrap washes and waxes out there, we recommend simply using a mild dish detergent like Dawn and a non-abrasive sponge. We do not recommend pressure washing the wrap and ask that you avoid automatic car washes since the pressure and brushes can damage the wrap's finish over time. For more information, please refer to our wrap maintenance tips page. Your wrap also comes with a 2-year Picture This Warranty, and our team is always here to help if any issues should arise.
Once your vehicle is wrapped, it's time to get your vehicle on the road and shift your marketing into high gear! Whenever you park the vehicle, position the vehicle as close to the street as possible to increase its visibility to passerby. We also recommend that you ask your clients how they heard about you so you can gauge how quickly your wrap pays for itself.
Our business is helping your business grow and we want you as a fan of Picture This. You're sure to get questions about your sleek new wrap once it's out on the road and the highest compliment we can receive is a referral.
So what can we help you picture wrapped?