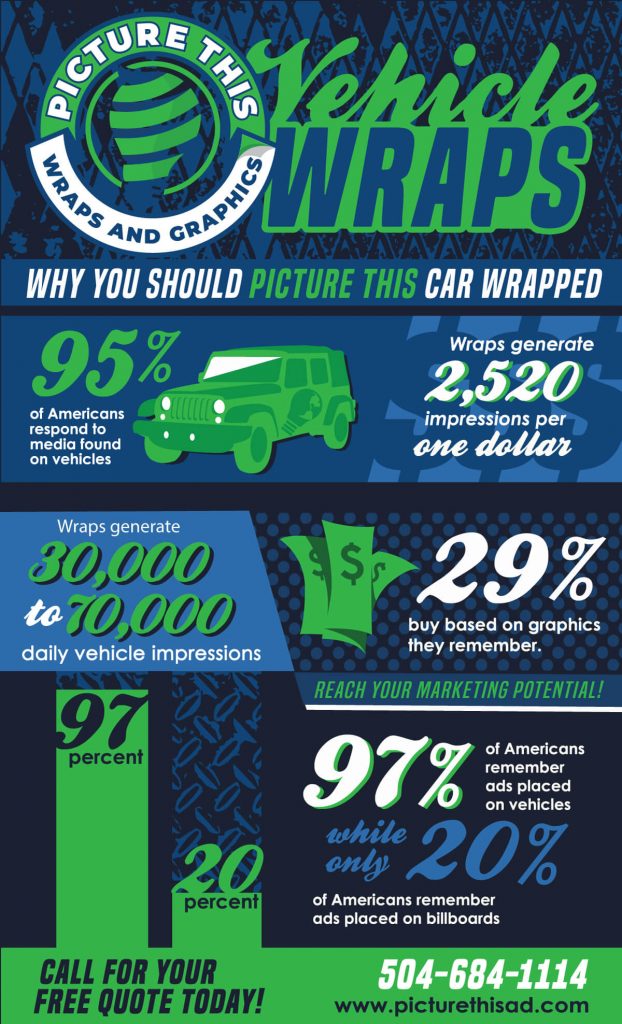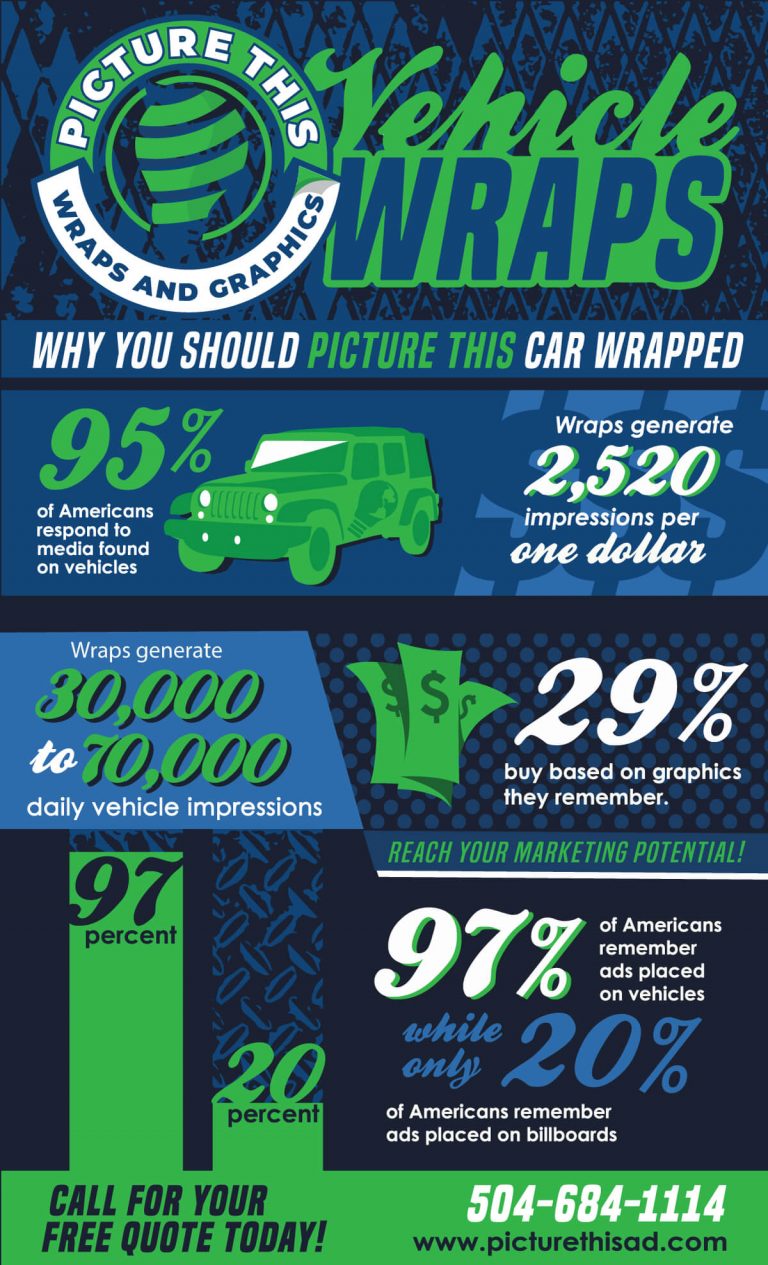 What you want to know about commercial vehicle wraps.
Simply put – you can't beat what it gives you for the dollar. The average wrap life is 5-7 years before it starts to lose its quality. We recommend having it removed in this time frame anyway in order to also allow for an easier removal that comes off in the size of pillows not pills once it's aged.
The most impressive are always the full coverage wraps while many times the best buy for the dollar, especially for larger fleets would be the partial wraps. As I'm sure you would already imagine, the more coverage and impact you wish to have, the more investment would be required when it comes to wraps.
Good design is Key! We are big believers in less is more! It's difficult to absorb a ton of information in a short time so what we do is try to enlarge the most important elements allowing them to cut through the clutter.
There are generally two different categories vehicle wraps fall under. Commercial and personal. Personal wraps are at most times a color change wrap which is a solid colored vinyl applied to a car in order to change its appearance much like a regular paint job.
We also do many personal wraps that involve designed and printed graphics that often times helps display the customer's personality or style on fun surfaces such as boats or home walls.
Commercial wraps are typically custom designed, and digitally printed white vinyl that have added protective over coat lamination to help protect it from the elements and give a longer brighter look. The commercial wraps are proven to be one of the best forms of advertisement for the overall dollar year after year.
Most of our commercial wrap clients are looking to us to solve their challenge of how to stand out from the competition and get their message in front of their target market with a professional brand/look. We urge our clients and help them to keep this as a consistent look on everything with their name on it from that point on.
Our job is to listen to your needs, let you know the options we can offer while answering any questions you may have. From there it's what you feel is the best investment for your business. Our team believes in not being a " Yes Man". We will speak up when the elements that are introduced are not in your best interest and will not provide the best return for your investment. At the end of the day, of course, it is YOUR wrap and we will give you whatever you wish, but we pride ourselves on educating our clients as we move forward. I wouldn't tell any of our HVAC clients which coil to use on my AC repair.