VEHICLE WRAPS –
WRAPS the basics of what you should know.
Think of a vehicle wrap as a custom sticker applied to a surface like a new skin that can totally transform the look of the vehicle. Wraps allow us to transform cars and boats much like a new paint job would, turning something ordinary into something extraordinary. Our team has access to so many different types of vinyl and printing techniques, we are sure to find something that fits your style, needs, and budget. With today's technology, what we are able to wrap is almost limitless.
Most printed wraps are made to last for a life span of 5-7 years, allowing for a fairly simple removal. Not only do wraps do not harm the paint underneath, but they also act as a thin protective layer against everyday light bruising like bumps from grocery carts.
Here at Picture This Wraps and Graphics we LOVE wraps! Vinyl wraps are used almost everywhere now, so we've been lucky enough to have been a part of some creative and crazy projects. From wrapping Wolverine's motorcycle for the movie "Logan" to transforming one family's three car garage into their own personal beach, the sky's the limit on what we can wrap!
We primarily focus on commercial vehicle wraps that help businesses stand out from their competition with a professional and memorable brand, but we can wrap walls, boats, storefront windows, trailers, even coffins (yes, some people do wrap coffins). We love a creative and unique project!
Check out our miscellaneous wraps gallery to see some interesting things people have had wrapped. Please note that not all projects were done by Team Picture This.
THE WRAP PROCESS


Once you decide you'd like to have a wrap done, we will start with a survey to review all measurements and details of the vehicle. From there, we will do what we call an "art interview" where we'll ask some key questions to learn more about your company and your goals for the wrap. This step is crucial for our design team to be able to give you our best design mockup for your needs from the start. You will be invited to a custom project board where you and the designer will work together to find your desired look.
Once you are pleased with your new wrap's design mockup, you will sign off on it and schedule your installation date, which is typically a week and a half to two weeks out (although some times are busier than others). Typically, we only need your vehicle for one day, but a maximum of two days may be needed for a more complex installation. We do ask our clients to hand wash their vehicles as well as remove any wax 24 hours prior to being wrapped so that the soap gases out properly and so water isn't dripping out of the vehicle's crevices while we are applying your vinyl. Please do not use Armor All on the tires as the overspray falls on the vehicle wheel wells and is very hard to remove to apply your wrap.
After your wrap is installed, we will provide you with information on how to care for it. Keeping your vehicle clean according to our guidelines not only prolongs the life of the vinyl but also ensures your graphics stay vibrant and attention-grabbing. While there are special wrap washes and waxes out there, we recommend simply using a mild dish detergent like Dawn and a non-abrasive sponge. We do not recommend pressure washing the wrap and ask that you avoid automatic car washes since the pressure and brushes can damage the wrap's finish over time. For more information, please refer to our wrap maintenance tips page. Your wrap also comes with a 2-year Picture This Warranty, and our team is always here to help if any issues should arise.
Once your vehicle is wrapped, it's time to get your vehicle on the road and shift your marketing into high gear! Whenever you park the vehicle, position the vehicle as close to the street as possible to increase its visibility to passerby. We also recommend that you ask your clients how they heard about you so you can gauge how quickly your wrap pays for itself.
Our business is helping your business grow and we want you as a fan of Picture This. You're sure to get questions about your sleek new wrap once it's out on the road and the highest compliment we can receive is a referral.
So what can we help you picture wrapped?
Commercial Wraps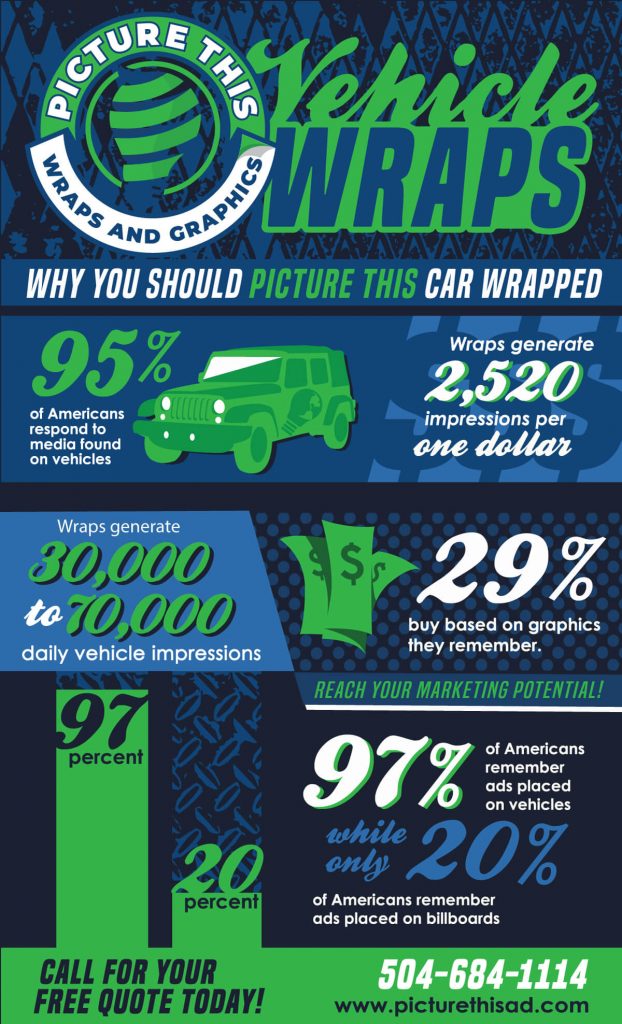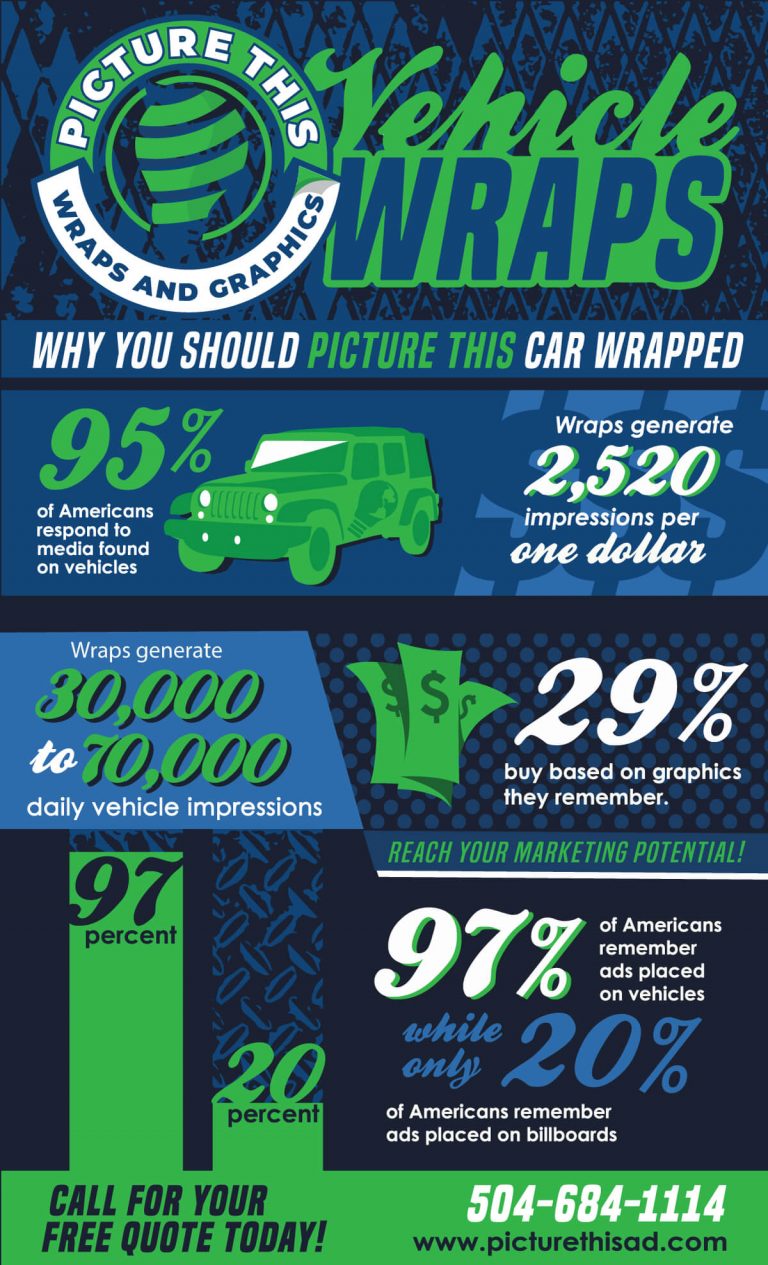 Turn your company vehicle into a mobile billboard with a sleek and professional commercial wrap!
If your vehicles aren't currently advertising your business, you've got an untapped resource at your fingertips. Commercial wraps are a cost-effective way to increase brand awareness and help you stand out from the competition. They are typically custom designed and digitally printed in full color on white vinyl with a protective lamination before being installed on your vehicle. Once installed, wraps generally have a 5-7 year lifespan if cared for properly. (And don't worry, they're very easy to care for.) Simply put, you can't beat the value of a commercial vehicle wrap.
Commercial wrap customers can choose between a full coverage wrap or a partial coverage wrap, with the cost based on square footage covered. Full wraps are the most impressive since entire vehicle is covered in graphics, but partial wraps usually offer the best bang for your buck, especially for larger fleets.
We know vehicle wraps are an investment in your business and our team works hard to provide the best return on that investment. We believe that informed decisions are the best decisions, so we educate our customers throughout the design process. We pride ourselves on not being "yes men" and will speak up when something may not be in your best interest. Our job is to understand to your needs and deliver the best wrap solution to meet them.
Our designers are the best in the business and have years of experience specializing in vehicle wrap design. Great design is key and we are big believers in "less is more." We understand that it's difficult to absorb a ton of information in a short time (like when someone drives past your vehicle), so the most important elements like your business name/logo are enlarged to take centerstage. In order to encourage brand awareness, we urge our clients to keep their wrap's look consistent across their business, everywhere from business cards to their website.
Visit our Commercial Wrap Gallery to see some of the businesses we've helped in the past.
We also do many custom designed personal wraps on boats or even in homes and offices that show the customer's unique style.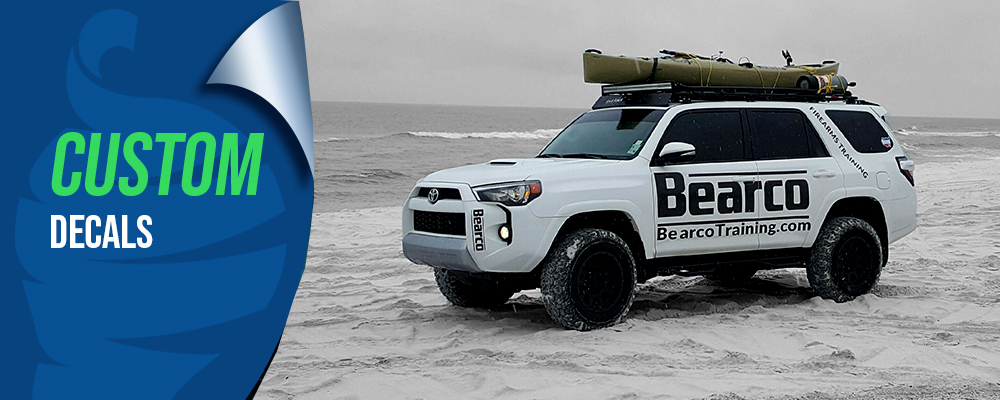 DECALS
If you currently have a vehicle with little to no branding but aren't quite ready to invest in a partial or full coverage wrap, decals may be a cost-effective alternative. Decals, also known as spot graphics, are our least expensive graphics option. Decals are available in solid colors or digitally printed in full color, usually with minimal coverage area. With a good, clean design, decals can be an effective graphics solution. Please keep in mind that they do come with their own challenges, such as curling along the edges that can collect dirt. They may also show obvious UV-ray wear on your paint once they're removed.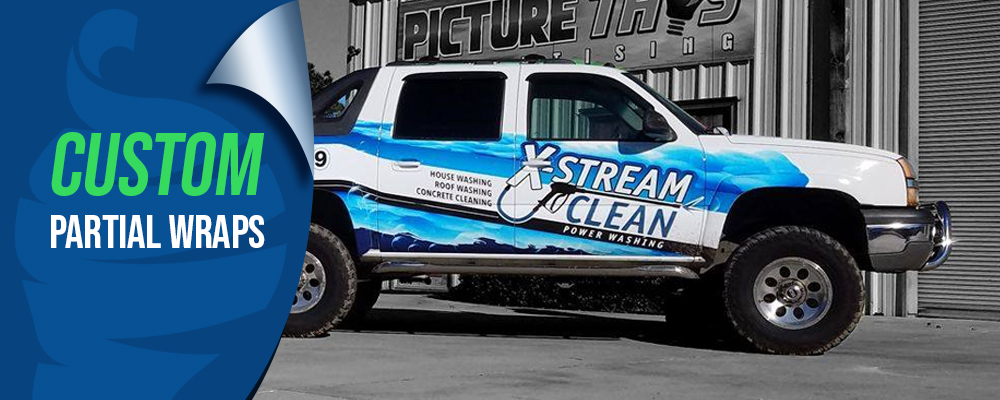 PARTIAL WRAPS
If you're looking for a custom vehicle wrap that'll give you the most bang for your buck, a partial coverage wrap is an excellent choice!
Partial wraps work especially well when we are working with neutral vehicle colors like white, silver, or black. Rather than wrapping the vehicle's entire surface area, a partial wrap focuses on the areas that offer the most usable design space. Typically, graphics start around the front tires and go towards the rear of the vehicle, usually keeping all the graphics below the window line. The larger area on the back of the vehicle is usually fully covered to market to the captive audience caught behind you in traffic since they have a bit more time to take in your message. We help cut costs by not wrapping areas like the hood, rooftop, bumpers, and around the windows because these areas are less likely to be read by passerby. As an additional cost savings, partial wraps don't cover the windows, which normally require an extra cost for the window perf material used. Partial wraps are where we normally advise our clients with larger fleets to invest their advertising dollars so that they can achieve a uniform, professional look with a smaller price tag.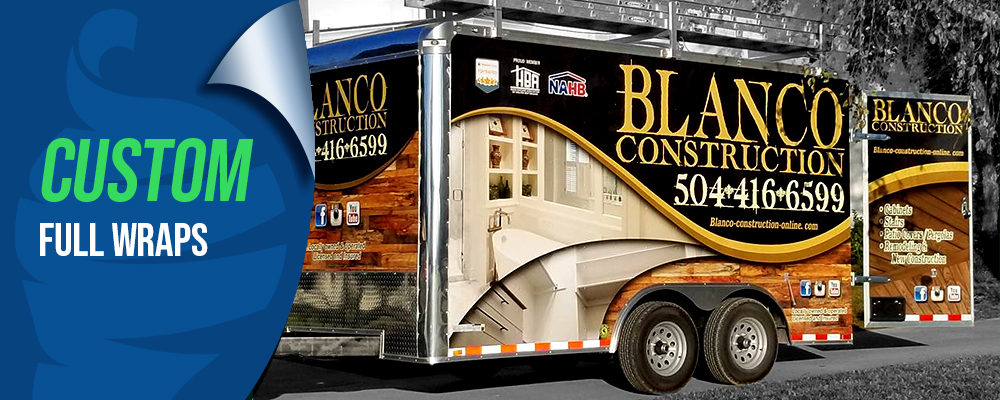 FULL WRAPS
Looking for the top of the line option that demands attention? A full wrap is your answer.
Full wraps provide the most real estate for your design, which translates into the most impact for your message. Full coverage wraps do just that – they fully cover your vehicle including hood, windows, and a strip along the rooftop covering the areas you see from a standing viewpoint. A fully wrapped vehicle makes the most professional first impression and shows that you continually invest in your company.
BOAT WRAPS
Transform your boat with the most eye-catching boat wraps on the Gulf Coast!
Let Picture This Wraps and Graphics turn your boat into a real attention-grabber or even a moving billboard with our striking boat wraps and graphics. Whether you want to transform the appearance of your boat with a simple color change wrap or advertise your business with custom printed marine graphics, Picture This Wraps and Graphics has your wrap needs covered. From designing your printed wrap to installing it on your boat, we take care of everything to give you the smoothest experience possible.
Picture This is the Gulf Coast's premier source for boat wraps. Choose from a range of designs or create one that reflects your unique style or advertises your business. Our wraps are designed to withstand the harsh conditions a boat is subjected to, so your investment is protected.
Take a look at some of the custom color boat wraps and marine graphics we have designed and installed for our clients.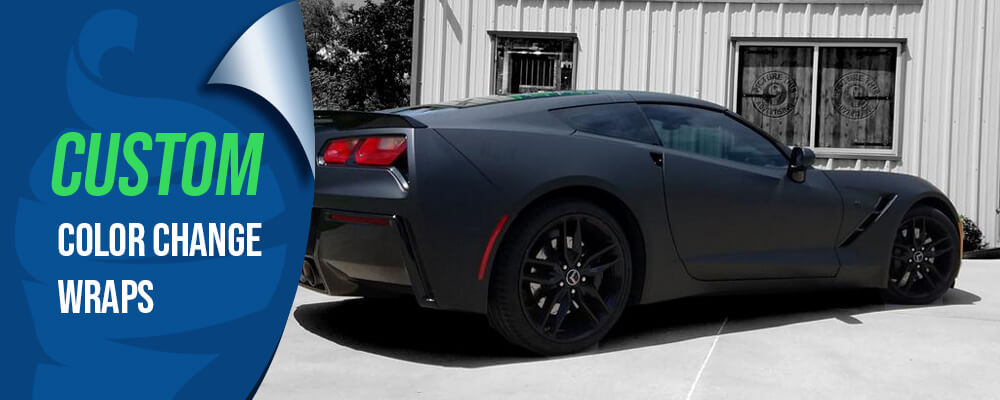 COLOR CHANGE WRAPS
While we offer an unlimited assortment of custom wraps, few beat the WOW factor that our specialty color change wraps offer. There are endless ways to customize your car, but a specialty skin color change wrap will be what sets yours apart from all the rest. The ever-popular black matte wraps have been around for a while, but the demand is growing for more customized looks like carbon fiber or black mamba snakeskin.
Color change vinyl wraps can be done in nearly any color imaginable and in a variety of finishes. They include but are certainly not limited to:
Matte colors
Color shifting
Chrome
Camouflage
Textured wraps like brushed metal, pearl, leather, alligator, and carbon fiber
Take a look at some of the color changes we've done in the past.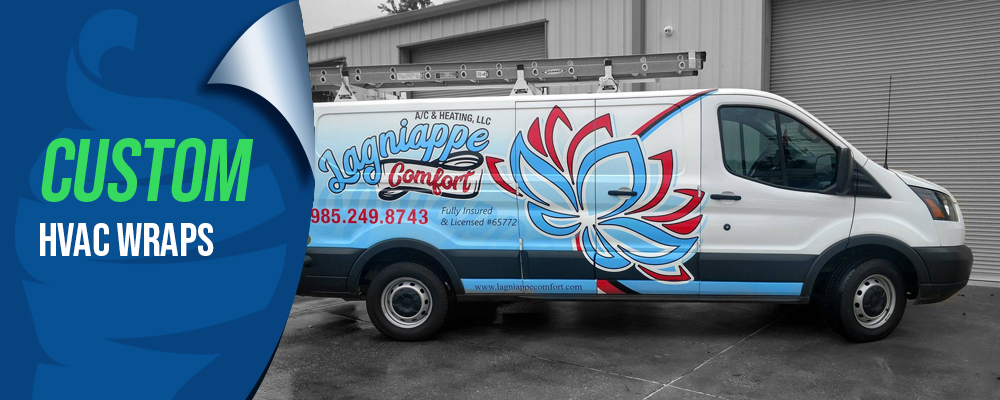 HVAC VEHICLE WRAPS –
The Heating, Ventilation, and Air Conditioning (HVAC) service industry is an excellent example of how a properly executed vehicle wrap can help even a well-established brand grow their business.
HVAC vehicle wraps are our specialty here at Picture This Wraps and Graphics. Our home base is in southeastern Louisiana, where AC units run year-round and require a lot of service technicians. These HVAC businesses share the same challenges as any other business: how to stand out from the competition, how to present themselves professionally, and how to be top of mind when a potential client needs their services. Our wraps help you accomplish it all.
Whether you're a one-man operation or have a fleet of 100 vehicles, your company vehicles are the perfect canvas for a mobile billboard. These vehicles are constantly on the road and sitting in clients' driveways – perfect opportunities to get your name out to the masses with a great vehicle wrap. We help you establish a brand to represent your business and encourage you to keep that same look consistent from your business cards to your website. It all starts with proper design.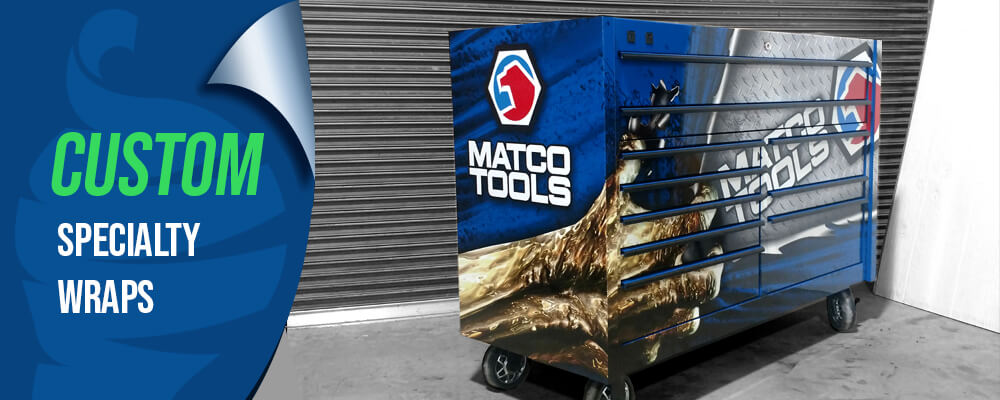 SPECIALTY WRAPS –
In need of something unique to be wrapped? Sounds like you're our kind of person! Our wraps can go wall to wall, floor to ceiling, inside or outside, and can even be applied to tables, counters… practically anything you can imagine! If you're going somewhere that no one has gone before, we'd love to trail blaze with you, so please give us a call.
If you're ready for your physical assets to start putting money back into your pocket, contact Picture This Wraps and Graphics and let us picture something for you today!
We can wrap:
Boats
Counters
Doors
Elevators
Escalators
Floors
Jet Skis
Port-a-Potties
RVs
Tables
Toolboxes
Just about anything!
We are proud to provide our services nationwide, but we are even prouder to call the Gulf Coast home. Call us today to see what we can wrap for you.