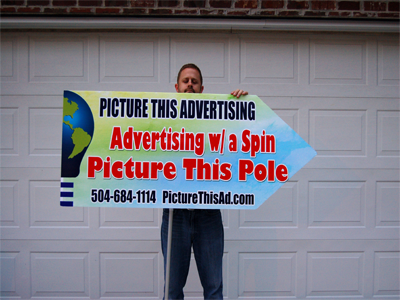 Picture This Advertising introduces the Picture This Pole, a uniqe sign spinning pole that puts a new spin on your advertising message.  The creative design allows you to attach virtually any size of a display message to the free spinning base head.
Professional and convenient design comes shipped ready to use for easy sign installation.
Eliminates an employee's learning curve it requires to be a professional sign spinner
Includes a spinner lock to hold stationary or mount for wall or floor stands.
Can be mounted off center in order to get a wobbling effect when spinning.
Combined with a longer pole will allow it to be risen above crowds
Call today to get your free quote, and put a spin on your advertising message.