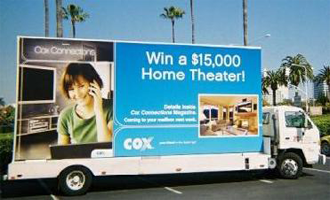 Mobile Billboards, AKA Billboard Trucks, Billboard Fleet, Advertising On Wheels,
are trucks fabricated into a full-size billboard with the capability of travel throughout the city taking your advertising directly to your market. This traveling billboard is in constant movement, covering the widest geographic area, including places where other forms of advertising cannot reach.
Picture This Advertising's fleet of Mobile Billboard Vehicles primarily consists of new 10'x22' billboard trucks all dedicated to advertising. Our trucks also are equipped with GPS, Back-lighting and sound systems to suit each client's needs.
Mobile Billboard Advertising is ideal for brand awareness campaigns, but also for your next convention, grand opening, product launch, recruiting event, you name it and Picture This Advertising's Mobile Billboards can promote it anywhere in the U.S
Studies conducted by the Transportation Council of America (TCA) show that "mobile billboards have an impressive 97% recall rate, virtually unheard of with most advertising mediums" and that "there is a greater need by advertisers to more accurately target a message to an increasingly mobile demographic target."
Features & Benefits:
Flexibility –
Mobile Billboards are without boundries! We place your message in front of your audience anywhere, anytime.
Sound System and Lighting –
Sound Systems available in order to create extra attention while complimenting your product sampling efforts. The lighting provides added appeal and attention during the evening hours.
Precision Targeting –
You can choose the routes you want covered and the customers you want targeted. Then we drive your mobile billboard ad 8 hours per day to these targeted areas.
MOBILE BILLBOARDS IDEAL FOR:
› Sporting Events
› Corporate Branding
› Trade Shows & Conventions
› New Product Rollout
› Movie Premiers
› College Events
› Retail Promotions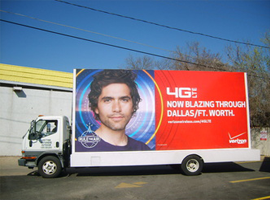 › Grand Openings
› Political Campaign
› Special Events
› Public Announcements