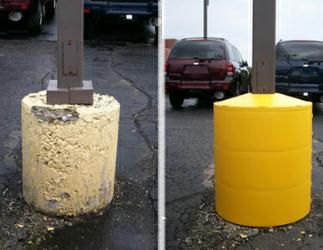 This Light Pole Covers , A.K.A. Poletectors, Light Pole Base Wraps, improve the appearance of cement light pole bases while providing you a unique space to advertise on.
The patented ring assembly snaps together to fit any height and over pillars up to 24″ in diameter. Top is easily customized to fit round or square light poles. We will even cut to your specific dimensions in-house, allowing for a complete customized unit for easy installation out of the box.
Our clients are the smartest and always looking for an opportunity to take advantage of any unused space to get their message out, increase foot traffic, and stand out from the competition. By placing a company logo or promotion message
on the covers it does all the above.
Available in many fade-resistant colors
Withstands extreme temperatures
Impact resistant
Maintenance free
Lightweight
Installs easily
TYPE4 Ring, 6″ Square Top
OVERALL HEIGHT (IN.)41-1/4
DIA. (IN.)26
INSIDE DIA. (IN.)25-1/2
INSIDE DIMENSIONS (IN.)25-1/2
OUTSIDE DIMENSIONS (IN.)26
OUTSIDE DIA. (IN.)26
PIPE DIA. (IN.)24
WALL THICKNESS (IN.)1/4
POST THICKNESS (IN.)24
COLORYellow
CONSTRUCTIONPolypropylene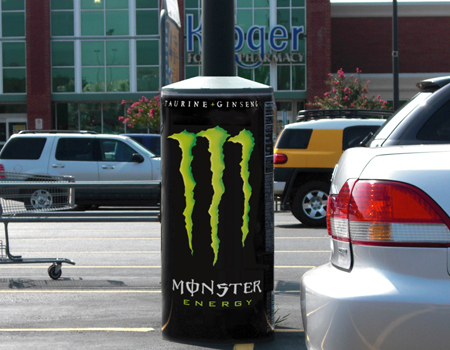 FITS BEAM SIZE (IN.)Round 24″ or Square 18 x 18″
PACKAGE QUANTITY1
NET WEIGHT (LB.)19
WEIGHT 19.00
Light Pole Base Cover, 4 Ring, 6 In Square Top, Overall Height 41.27 In., Dia. 26 In., Inside Dia. 25.5 In., Inside Dimensions 25.5 In., Outside Dimensions 26 In., Outside Dia. 26 In., Pipe Dia. 24 In., Wall Thickness 1/4 In., Post Thickness 24 In., Yellow, Polypropylene, Fits Beam Size 24 In Round or 18 In x 18 In Square, Net Weight (Lb.) 19