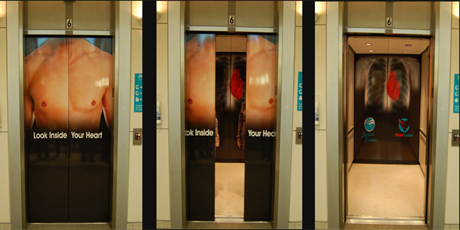 Custom Elevator Wraps, AKA. Elevator Advertising, Elevator Vinyl, or Elevator Skins, are quickly becoming an effective medium that both small and large corporations are using as an advertising vehicle for their messages. They can't be turned off or discarded and are read over and over again.
Elevators are everywhere, and Elevator Wraps offer another new and creative way to reach a captive audience by utilizing what is normally a dull and unused space. They offer the capability of targeting passengers spending 30 – 60 seconds or longer per trip, and that's typically several times a day for office workers and apartment dwellers.
While a typical elevator wrap is a 8'High x 4'Wide ad on the outside doors of the elevators, they can also be placed on the interior doors, walls, and even floors. For the most impressive campaign, a creative combination of interior and exterior can be used.
Elevator wrap messages are the first and last thing people see as they wait for
and leave the elevator. Research conducted by the marketing departments of Ryerson
Polytechnical Institute in Toronto and Capilano College in Vancouver showed that
elevator advertising achieved the highest unaided medium awareness with 84% and
elevator advertising provide one of the highest in media recall with 96%
The elevator wraps are ideal for:
Convention Centers
Shopping Malls
Parking Garages
Universities
Hotels
Arenas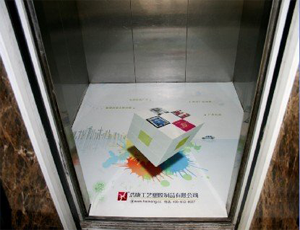 Airports
Hospitals
Office Buildings
Apartment Complexes
Casinos