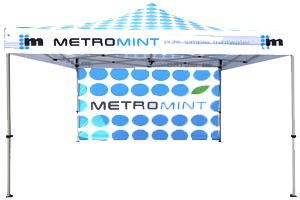 Custom Pop Up Canopy / Advertising Tents:
Picture This Advertising offers a wide assortment of Tent Graphics, AKA Custom Canopy, Custom Pop Up Tents, Logo Tents, and Custom Sunshades.
Providing you with top of the line equipment and service insures that you will not find a better custom cover.  Our tents are fast up, fast down and are overall a hassle free set up.
Our team will spend the time to listen to your needs and be happy to help guide you on the best canopy for your needs.  Regardless of which style you may need, Our tent frames feature cast aluminum connectors, sturdy welded feet and the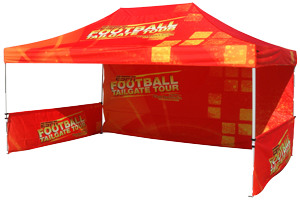 bonus of user-friendly pull pin operation – traits uncommon to other tents. Customization of your printed tent canopy is a breeze as well with a wide variety of fabrics, fabric colors and printing techniques and locations, guaranteed to get your brand or promotion noticed in a crowd.