We can create custom-made tethered helium blimps, remote control helium blimps, mini helium blimps, and full sized helium blimps.
Available Sizes of helium blimps are:
Custom RC Blimps available sizes:
8′ Long, 10′ Long, 11′ Long, 15′ Long, 20′ Long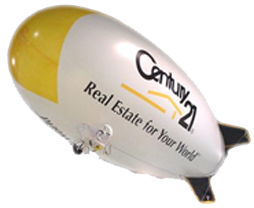 All of our blimps are made of polyester taffeta that is especially coated for helium blimps and thus has less chances of leakage in contrast to the standard PVC material. Moreover, polyester taffeta has better durability for helium blimps and its lightweight requires less quantity of helium which saves on the overall operational cost.  Helium blimps can be often seen at trade shows, promotional exhibits, marketing displays, height visibility, parades, retail fronts and for indoor and outdoor attention. Helium blimps products serve as excellent modes of advertising or promoting an event, products, brand name, sales and business.
The best aspect about these helium blimps is that they can be seen from a faraway distance depending upon their size and the height at which they are flown. Custom helium blimps provided by us are offered in fabulous designs and can be made in any sizes and colors as demanded by our clients. In fact, our experts are there to guide you regarding the best suited option
Advertising Blimp Features:
Easy Setup
Includes Everything Except Helium
Durable PVC Material
Many Sizes Available
Many Fin And Body Colors  Available
Custom Decorated With Any Text Or Logo
Perfect For Special Events, such as Trade Shows and Sporting Events
Advertising Blimps Include everything you need to fly
4 Channel FM Remote Control & Receiver
Duel Main Motors & Tailfin Motor
2 Batteries & Battery Charger
Remote Control Drop Mechanism