Custom Barricade Jacket, A.K.A. Barricade Cover, Bike Rack Covers, or Crowd Control Covers, transform the ordinary dull and unattractive steel barrier units into a stop in your tracks branding medium.
Picture This Advertising offers custom graphic barrier jackets to fit any barricade regardless of the type or size.
Custom barrier jackets are a clever, unique method to get your message to on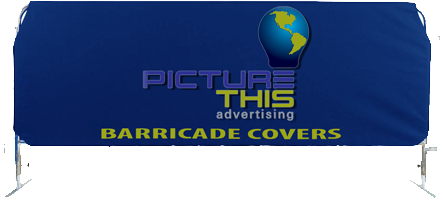 goers of  any special event.  Ideal for festivals, parades, concerts, races,sporting events, and nearly anywhere else where large groups gather, all while providing an eye-catching graphics for event sponsors.  Our custom barricade jacket graphics can be produced on nearly any fabric and serve multiple purposes including company branding, sponsor identification or simply dressing up the crowd barriers.
custom graphic barrier jackets
Call (888) 313-6513 today to get your free quote on your custom barricade cover advertising. We serve in the entire US.
For more info and pricing on Barrier Jackets call 888-313-6513
We also provide blank custom barrier jackets in many colors starting at only $65.00
To see more visit Full Color Barrier Jackets
Click here for –  Barricade Covers Frequently Asked Questions
Click here for –  Measurement Areas Needed for Barricade Covers